China has strongly opposed tough American sanctions on a Chinese bank over its transactions with Iran, warning that the move could damage Sino-US ties.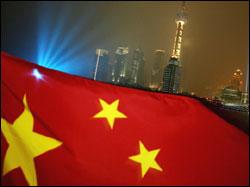 Chinese Ministry of Foreign Affairs demanded the US lift sanctions on the Bank of Kunlun to prevent any damage to the bilateral relations.
The Bank of Kunlun, which is affiliated with the China National Petroleum Corp (CNPC), said its operation is proceeding as usual, while denying that the sanctions would influence their decisions.
"The bank couldn't disclose any loan amounts to Iran as the details are business secrets," the bank's media spokesman Zou told Chinese state-run Global Times.
Zou said the bank would handle the matter properly with help from related governmental departments.
Qin Gang, a foreign ministry spokesman, said US is "seriously violating the norms of international relations and is damaging China's interests" by imposing sanctions on a Chinese financial institution using domestic laws.
"China has regular relations with Iran in the fields of trade and energy, which have no connection with Iran's nuclear plans," he said.
This is not the first time Chinese companies have been included in US sanctions due to business connections with Iran.
Three Chinese companies were included in the sanction list in May last year for allegedly transferring restricted or military devices and technology to Iran.
US President Barack Obama on Tuesday imposed new economic sanctions on Iran's oil export sector, and on China's Bank of Kunlun and Iraq's Elaf Islamic Bank, which are accused of doing business with Tehran.
According to reports, the sanctions are authorised in part for those who provide support to the National Iranian Oil Company and the Central Bank of Iran.
Yi Xianrong, a professor at the Institute of Finance and Banking at the Chinese Academy of Social Sciences, said due to CNPC's close business relations with the US, the bank couldn't be totally free from influence of the sanctions.
"The US will try to punish the bank by issuing fines or interfering in its business with US banks," Yi said.
Under a law aimed at pressing Iran to abandon its nuclear ambitions, the US will bar financial institutions that deal with Iran's central bank from doing business in the US.
"The US is broadening the range of the sanctions from not only the international oil trade with Iran, but any financial activities with Iran," said Shi Yinhong, professor of international studies at Renmin University of China.
Shi said that the election is one of the reasons behind the new sanctions, but added that the US also wants Iran to give up their nuclear projects as soon as possible due to concerns that Israel may take military action.