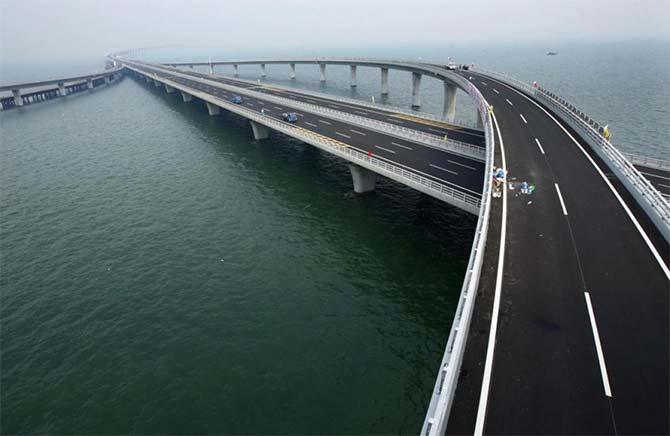 Giving final touches to its most ambitious plan to build a wide network of new silk roads on land and seas to enhance global connectivity, China has invited India to join President Xi Jinping's pet project that would revive the ancient trade route and benefit the region.
"From historical point of view India is the converging point of Maritime Silk road (MSR) and the ancient Silk Road on land. For more than 2,000 years India had very good exchanges with China through the passage of the South Silk Road," Gao Zhenting, Councillor, Department of International Economic Affairs, told PTI.
"So in China we have a belief that China and India both placed the trail of silk roads and MSR and we both have benefited from the roads," said Gao, who oversees the Silk Roads projects that involves a maze of highways on land and port connectivity by sea. The projects were expected to revive China's trade links specially its sagging exports besides globally enhancing its sphere of influence.
Throughout the history of Silk Road and Maritime Silk Road many scholars and businessmen from India visited China and still many Chinese remember the names of many of them and stories, he said.
Gao took a team of diplomats and journalists to showcase China's preparations to build the New Silk Road (NSR) from the historic city of Xian, once the flourishing capital of imperial China. The road enabled China's famous Buddhist scholar Xuanzang to visit India in 600 AD and return with treasure trove of Buddhist scriptures.
According to the recent Encyclopaedia of 2000 years of cultural contacts between India and China, Xuanzang, an ardent Buddhist scholar, visited India traversing through the ancient Silk Road of Kyrgyzstan, Uzbekistan, Tajikistan and Afghanistan and entered the undivided India.
Xian houses the Wild Goose Pagoda, built in memory of Xuanzang's visit to India. "The Chinese government believes that India naturally is an important partner in this One belt and One Road," Gao said.
"We are open to all friendly neighbouring countries to participate in this one belt and one road but of course we will not force any one to join nor we will give up if someone is not taking part," he said.
Gao denied the new projects were aimed at establishing China's influence, saying Beijing is not aiming to establish influence nor will it establish a new mechanism for the Silk Roads.