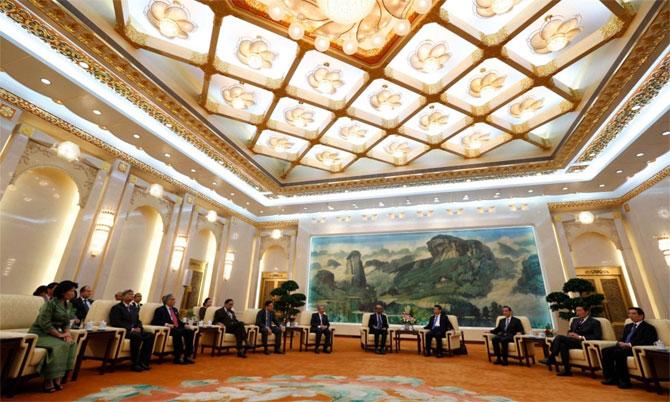 China will be the largest shareholder in the newly floated Asia Infrastructure Investment Bank (AIIB) with a 30.85 per cent stake followed by India and Russia, Chinese officials have said.
"Based on the AIIB members' GDP weight in the world economy, China will become the bank's largest shareholder, followed by India and Russia," Chen Fengying, a research fellow at the China Institutes of Contemporary International Relations, told state-run Global Times.
China is likely to have a 30.85 per cent share in the bank, followed by India with 10.4 per cent, the daily quoted media reports as saying.
"Whether measured by nominal GDP or the purchasing power parity-adjusted GDP, it makes sense for China to be the biggest capital contributor and the most influential decision maker among all the Asian members," Ma Tieying, an economist with Singapore-based DBS Bank, told the Global Times.
Based on the GDP and Purchasing Power Parity, (PPP) China was expected to get the post of president followed by India as one of the vice presidents.
German Ambassador to China Michael Clauss said Germany will have a director on the board of the AIIB.
Clauss said that Germany was in favour of a board of directors that represented the regions joining the Beijing-led bank and had the power to approve projects.
He said China would be an influential player in the bank, as was the United States in the World Bank or the International Monetary Fund, but he added that the bank would be operated in accordance with international procedures, including the requirement of a super qualified majority for voting to approve critical projects.
"For us, it is important that the standards do not differ too much from those adopted by the IMF, World Bank and the Asian Development Bank. Our feeling is that Beijing does respect that it has to adhere to international standards and procedures," he was quoted as saying by the Hong Kong based South China Morning Post.
Founding members of the bank will initially pay up to one-fifth of its $50 billion authorised capital, which will be raised to $100 billion.
A total of 57 countries have joined AIIB as founding members, including 37 from Asia, which is set to mainly finance major infrastructure projects in Asia, Shi Yaobin, China's vice finance minister has said earlier.
An agreement on the structure of the bank will be signed before the end of June, he said.
Meanwhile, the chief negotiators of the 57 prospective founding members held their fifth meeting in Singapore to finalise the Bank's structure.