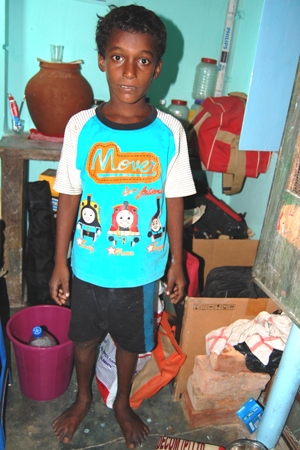 He wears a grey head on his young shoulders.
When kids of his age watch cartoon/kids' channels or spend hours playing video games, Shankar Mondal, aka Bachha, toils hard at a garments' shop in south Kolkata to earn so that two of his younger brothers can study.
He too loves to watch Pogo channel but hardly gets to watch television.
His day starts early in the morning and ends around 8 pm. He gets about two to three hours' break in between during which he goes to a mass education school in the vicinity and 'tries' to study.
"These schools are not so equipped, you know. Even then something is better than nothing. At least in those few hours I get to learn something."
Shankar took up this job at the garments shop so that he could pay for the fees of two of his younger brothers, who now study in Class II and Class I, respectively, in a government-run school in south Kolkata.
"A few years ago, Baba lost his job at a jute factory. Overnight, we turned penniless. Ma's modest job as a housemaid wasn't enough for our family of five. Hence it was decided to stop sending three of us to school.
"We could not afford our studies, you see. It was then that I decided to take up this job. I am the eldest of the three. It is my duty to help my brothers.
"Now I pay for my brothers' fees. Baba has got himself a job as a mason's helper and Ma is working in four houses as a part-time housemaid. Salaries that each one of us earns are enough for us to survive at the moment.
"I feel happy that my brothers can continue with their studies while I too am getting a chance to learn a little bit. It's a tough life no doubt, but I would rather work hard than be a burden on my parents," says Shankar a proud smile kissing his lips.
Child labour is a dagger through India's soul. The country has the dubious distinction of being home to the largest child labour force in the world, with an estimated 30 per cent of the world's working kids living here.
Image: Shankar Mondal.| Photograph: Dipak Chakraborty