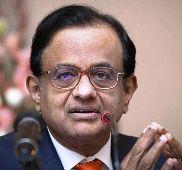 With the latest reform spree to talk about and the need to impress rating agencies and global investors about the government's intention of pushing more, the government of India will have a high-level presence led by Finance Minister P Chidambaram in Tokyo next month, at the annual meetings of the International Monetary Fund and the World Bank.

This year's deliberations, on October 9-14, come in the backdrop of the persisting crisis in Europe and the US and its apparent effects on India, China and other countries supposedly driving growth.

In his first official visit abroad since he resumed charge as finance minister, Chidambaram would be also taking along the deputy chairman of the Planning Commission, Montek Singh Ahluwalia, and the chairman of the Unique Identification Authority of India, Nandan Nilekani.

US Treasury Secretary Timothy Geithner is visiting India on October 9-10 and is to also attend the Tokyo meetings during October 11-13.

On October 9, Geithner will be here to participate in the third annual meeting of the US-India Economic and Financial Partnership with Chidambaram.

The next day, he'll meet Reserve Bank of India governor D Subbarao in Mumbai.

Prime Minister Manmohan Singh, who'd held additional charge of the finance ministry after former finance minister Pranab Mukherjee's resignation, had indicated that keeping in mind this Fund-Bank meeting, he would be handing over the job to a full-time finance minister before September.

Chidambaram took over on August 1 and his first appearance on a significant international platform would be watched with keen interest, as the country faces a rating downgrade threat on account of fiscal pressure.


The minister is expected to project the recent measures of the government to curb fiscal deficits and also FDI reforms as a major step forward in shrugging off the the perception of policy paralysis.

The annual meetings of the Fund and the Bank each year bring together central bankers, ministers of finance and development, private sector executives and academics to discuss issues of global concern.


Generally in September-October, these have customarily been held in Washington for consecutive years and in the third year at another member-country.

Ahluwalia would be speaking at a seminar on 'Restoring hope: policy options for jobs & growth -- on October 11.

Nilekani will take part the same day in a debate on 'Globalization at crossroads'.
Image: P Chidambaram