The city's old post office, a 14-storey, 77-year-old building, was today sold in an auction for $40 million, after the US Postal Service made several unsuccessful attempts to sell the property to cut costs.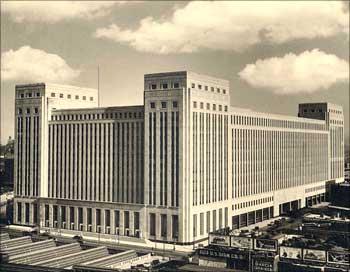 The former Chicago Main Post Office building, once considered the largest postal facility in the world, was sold to development firm International Property Developers North America Inc at an auction conducted by city-based Rick Levin & Associates.
The bidding started at the suggested minimum bid of $300,000.
While not divulging details of what it intends to do with the building, International Property Developers said it would make the building a "focal point" for area residents and visitors.
"We are not prepared at this time to discuss our redevelopment plans, but we are looking forward to working collaboratively with the mayor, the alderman and city staff to ensure the success of this project... We shall make no small plans," it said.
The winning bidders are required to put down 10 per cent of the bid price - $4 million - in three days and close purchase by September 30.
Built in 1932, the 3,000,000 square-feet building had been vacant since 1995 when the main post office was moved to a smaller facility.
The Postal Service had been trying to sell the building for the past 13 years, during the time toying with the idea of turning it into a water park, casino, automall, mix of offices, condos and hotel.
Since exiting the building, the Postal Service has spent several million dollars annually on the building's maintenance and security.
The Service, which reported a net loss of $2.4 billion in the third quarter ended June this year, is selling property to cut expenses. The mail volume at the post office has been under pressure given the growing trend of communicating through electronic alternatives instead of the letters. It had said in June that it planned to auction the building.
When functional, the post office had 5,000 workers process more than 35 million letters annually. However, the building became obsolete as the mail-sorting process was automated.