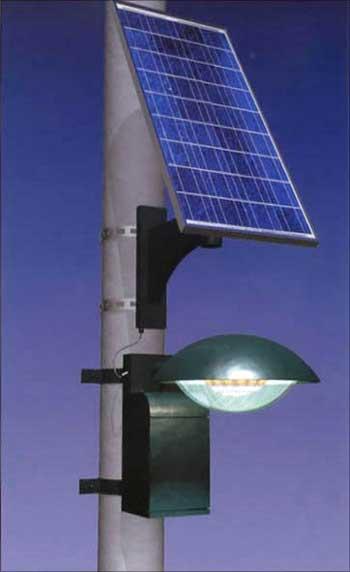 The Union new and renewable energy ministry said Uttar Pradesh was progressing "very well" in off-grid solar energy space. 
"Solar energy projects are being taken up aggressively in Uttar Pradesh with active cooperation of all the stakeholders, including National Bank for Agriculture and Rural Development, commercial banks, regional rural banks and state agencies," A Raza, director at the ministry, told Business Standard in New Delhi. 
The solar energy projects pertain to the setting up of small power plants, solar lighting systems at police stations, educational institutions, hospitals, hotels and nursing homes. 
Solar energy projects have been undertaken in 2,000 Ambedkar villages across 46 districts, mainly for street lighting. Besides, 100 telecom towers in the state are being equipped with solar energy panels. 
The Centre provides capital subsidy up to 30 per cent and credit support for these projects under the Jawaharlal Nehru National Solar Mission. While the re-finance institutions get funds from the government at two per cent interest, the retail end-users get soft credit at five per cent.
However, Raza said, unlike Rajasthan and Gujarat, grid solar energy projects were yet to take off in Uttar Pradesh. Grid solar energy capacity could be connected to the electricity grid for transmission and distribution. 
"The grid solar energy capacity depends upon the choice of private entrepreneurs to evince interest in the project and the proactive stance of the respective state governments to attract them," he said. 
Raza said the state electricity regulatory commission should first declare the solar power tariffs before entrepreneurs could seek out the opportunity in the state. 
Meanwhile, lending for solar energy installations could be categorised as priority sector lending by the country's Central bank. Nabard has already applied to Reserve Bank of India (RBI) in this regard. 
"We are hopeful that the RBI would accept our demand and soon a notification could be issued to the banks," said Nabard Chief General Manager (UP) D P Mishra. 
Under the Mission, the Centre has set a target of achieving an installed solar energy capacity of 20,000 Mw for grid connected power and 2,000 Mw for off-grid power by 2022. 
In the first phase of the target, by March 2013, the Centre is targeting 1,100 Mw and 200 Mw of grid and off-grid power capacity. For the first phase, an outlay of Rs 4,300 crore (Rs 4.300 billion) have been outlined, of which Rs 350 crore (Rs 350 million) have been released for the current year and the ministry has demanded Rs 1,950 crore (Rs 1.950 billion) for the next financial year. 
"There are no constraints of funds under the Mission, however bureaucratic processes need to be resolved," Raza added.
So far, 2 Mw under solar thermal power capacity and 20 Mw under photovoltaic power capacity have been added in the country, of the targeted 32 Mw in the current financial year.