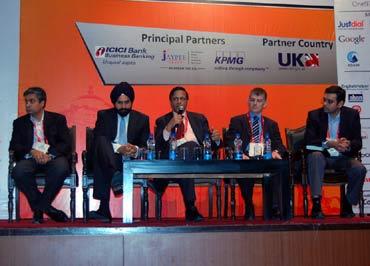 Tejpreet Chopra, former chief executive of GE India, and Rahul Sankhe, business development director of SunEdison Energy India Private Ltd, criticised certain aspects of the Jawaharlal Nehru National Solar Mission that ambitiously targets 20,000 MW of solar energy in India by 2022 in three phases.
Speaking on the sidelines of the TiE Entrepreneurial Summit's 'Clean is Green' theme, Tejpreet Chopra -- who quit GE India recently to start his own company Bharat Light and Power -- told rediff.com that there is a possibility of JNNSM going the telecom policy way if the government does not address certain regulatory issues.
"If they don't fix it," said Chopra when asked if the JNNSM will go the same way as the telecom policy on 2G spectrum allocation that led to an estimated loss of Rs 176,000 crore (Rs 1.76 trillion) according to the report of the Comptroller and Auditor General of India.
"Certain clauses on the land acquisition policy have led to many middle men getting in and making money on trading licenses," Chopra added.
Addressing a gathering of solar energy entrepreneurs, Rahul Sankhe said that regulations like only one solar plant of 5 MW capacity per producer will not help India reach a target of 20,000 MW by 2022 as envisaged in the JNNSM.
He also said that the policy provides no long-term visibility to producers like SunEdison.
According to Vinod Kala, managing director of Emergent Ventures, who chaired the discussion government's ambitious target of producing 20,000 MW of solar energy by 2022 would require an estimated investment of $90 billion.
"The biggest gap in the policy is that there is no long-term visibility (in the policy) for developers like us," Sankhe said.
Both Chopra and Sankhe lamented the fact that banks were not forthcoming to finance such solar energy producers. Sankhe said that the cost of production of 5 MW of solar power ranges between Rs 70-80 crore (Rs 700-800 million).
"The fact that the direct taxes policy (that will come into effect in the next financial year) takes away all the tax benefits (from solar power projects) is another disincentive for the producers," Chopra said.
Pointing out at yet another regulatory disincentive that mandates that low-cost bidding Chopra said "the low cost bidding policy will kill the industry before it takes off."
Sankhe also opined the same. "The focus is purely on cost. What matters is the cost of every unit produced," he said.
Sankhe said that India has great potential to achieve the targeted production of solar power by 2022. "We have so much of sun that only 5 per cent of Thar Desert could produce as much solar energy as the country is producing today."
He predicted that in the next three to four years the cost of solar cells will drop by 50 per cent because of huge demand for clean source of energy and improvement in process engineering.
Image: (From left) Sandeep Singhal, MD, Nexus Partners; Vinod Kala, MD, Emergent Ventures; T P Chopra, chairman and CEO, Bharat Light and Power; Owen Jenkins, head of Climate Change and Energy, DFID; and Rahul Sankhe, business development, CEO, SunEdison.
Photograph: Prasanna D Zore