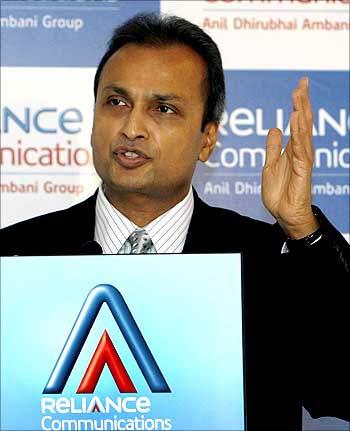 The Central Bureau of Investigation (CBI) probe into investment by Reliance Telecom, a unit of Anil Ambani-led Reliance Communications, in Mauritius-based Delphi, documented as part of the 2G spectrum scam, has reached a dead-end. The reply to the agency's letter rogatory sent to Switzerland in 2011 has not provided any incriminating evidence against Ambani or his company, a senior CBI official said.
The agency's investigation was meant to find if any of the bribe money for 2G spectrum was routed through Delphi, a subsidiary of Switzerland-based Mavi Investment. CBI recently got the reply translated into English to ascertain if there was any proof of criminality. It has not yet decided whether it will pursue the case or close it.
CBI had earlier alleged that Reliance Telecom had sold its 9.1 per cent stake to Delphi for Rs 10 crore — a price much lower than the prevalent market rate. The reply from Switzerland indicated there was no Indian investment in Mavi. After this, CBI has no evidence to go with a bribery allegation against Ambani, also a prosecution witness in the case.
Last August, Ambani was declared a hostile witness by CBI for not being able to "recall" the various board meetings of the company. "I attend a large number of meetings and I do not recall. I am going by the records only," he had told Special CBI Judge O P Saini.
Reliance's senior executives, including Gautam Doshi, Surendra Pipara and Hari Nair, along with Unitech MD Sanjay Chandra and Swan Telecom promoters Shahid Usman Balwa and Vinod Goenka, are facing trial for criminal conspiracy, cheating, forgery and other charges in the 2G spectrum scam case.
CBI alleged Swan Telecom and Unitech had got telecom licences despite their complete ineligibility. Both companies offloaded their shares soon after getting licences and garnered around Rs 7,300 crore in the process. Further, Swan Telecom was acting as a front company for Reliance Telecom for getting 2G spectrum, CBI said in its chargesheet.
The Comptroller and Auditor General of India had estimated a presumptive loss of Rs 1.76 lakh crore in the issuance of 2G spectrum licences. The investigative agency had registered an FIR on October 21, 2009, under various sections of the IPC and Prevention of Corruption Act against "unknown officers of DoT and unknown private persons/companies and others". The Supreme Court had directed CBI to go after corporate beneficiaries without being influenced by their status - "be it millionaires or those on the Forbes list."