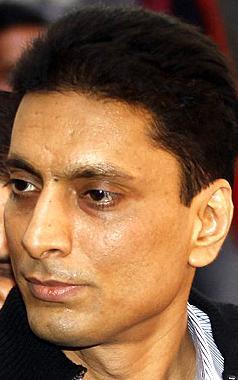 Swan Telecom promoter Shahid Usman Balwa was on Tuesday granted bail by a Delhi court which applied the "principle of parity" by taking cue from the Supreme Court and the High Court's order providing relief to 10 other accused in 2G spectrum allocation scam case.
With the release of Shahid Balwa, all corporate executives accused in the case have secured bail and only the three public servants former Telecom Minister A Raja, former
Telecom Secretary Siddharth Behura and Raja's former Private Secretary R K Chandolia are in jail.
Special CBI Judge O P Saini, who has so far dismissed all bail applications moved before him in the case, granted relief to Shahid Balwa on the same conditions which were imposed by the apex court and the high court while granting bail to the other accused.
The court accepted the submission of Balwa's counsel Vijay Aggarwal that charges framed against his client were identical to that of accused Vinod Goenka, Director of Swan Telecom, who has been granted bail by the apex court. CBI also did not oppose Balwa's bail plea on the ground of parity.
"Since as many as ten co-accused referred to above (in the order) have been granted bail by the Supreme Court as well as the High Court and the charges against accused Vinod Goenka and applicant/accused Shahid Usman Balwa are almost identical, following the principle of parity, I am inclined to admit him to bail and he is accordingly admitted to bail," the court said.
Shahid Balwa, who was in jail since his arrest on February 8 this year, was granted the relief on furnishing a personal bond of Rs five lakh with two sureties of the like amount.