The start of BHIM's declining share coincided with the launch of Google Tez in mid-September.
Illustration: Uttam Ghosh/Rediff.com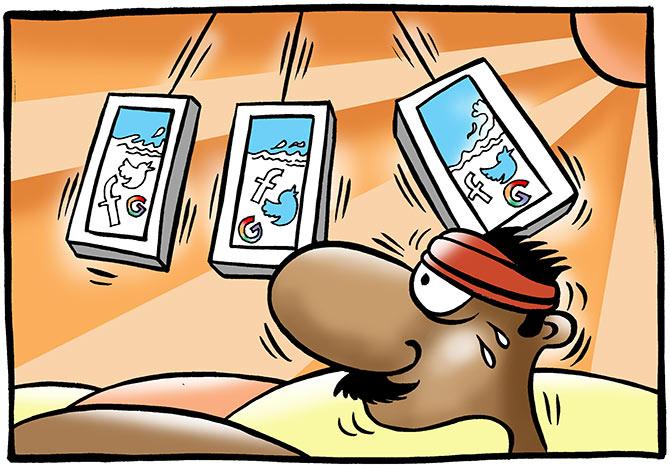 The Unified Payment Interface (UPI) has seen a steady rise in value and volume since inception, but the share of the government's Bharat Interface for Money (BHIM) app has dropped significantly.
The BHIM app, since inception, led the pack with a 40 per cent share in UPI volumes. However, its share dropped to 25 per cent in September and has continued to fall to 10 per cent in October and 8 per cent in November, according to the data released by the National Payments Corporation of India.
Despite BHIM's steady rise in value and volume, it has been unable to keep pace with the UPI's run rate.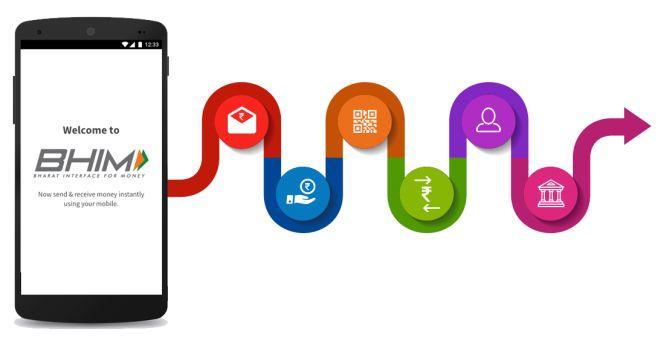 The UPI transaction volume reached 105 million in November, a 37 per cent rise from October. This followed a rise of nearly 150 per cent in October and 87 per cent in September.
The start of BHIM's declining share coincided with the launch of Google Tez in mid-September. While Tez crossed over 30 million transactions by October-end, BHIM saw only 7.6 million transactions in October.
"BHIM needs to improve its customer satisfaction compared to Tez and PhonePe," said D D Mishra, research director, Gartner India.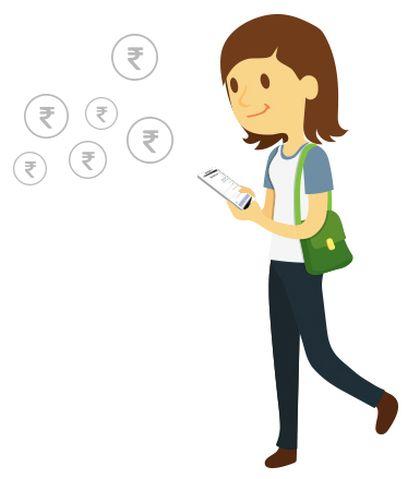 BHIM should ensure that complaints get more attention and quicker resolution as well as increase trust by ensuring transactions are safe, he added.
PhonePe was reported to have overtaken BHIM's share in August, to hold the highest share in UPI transaction volume.
PhonePe's transactions doubled from 16 million in September to 33 million in November. However, this figure includes the other digital payment options offered by the app.
The entry of these players as well as the growing popularity of bank-hosted UPI apps can be accounted for this shift in market share of UPI.
Industry experts said this was just the beginning and the UPI had tremendous potential to expand even further.
"The way UPI is structured, it provides a great platform for customers to onboard themselves to do transactions seamlessly," said Hemant Gala, member of Payments Council of India and head of bank and strategic relations at PhonePe.
"The experience it provides in a native environment, which takes away the friction seen in these transactions usually, has greatly helped the adoption of UPI and indicates a huge growth of UPI in times to come."
The generational shift in customers and the transition to mobile payments from card payments as well as the additional features that UPI would provide in future would drive the growth of UPI, said Dewang Neralla, managing director and chief executive, Atom Technologies, a leading payments service provider.
While the transactions are expanding, the value of transactions is growing at a comparatively moderate rate.
The average value per transaction has fallen from over Rs 3,000 to Rs 900 in November.
"Transaction size falling means that the use cases are expanding," said Sanjay Jain, chief innovation officer at IIM-Ahmedabad's Centre for Innovation Incubation and Entrepreneurship at a digital banking conference.
He added that it was a key indicator of growing acceptance of a payment system, as seen in the case of UPI.
Merchant transactions form 60-70 per cent of transactions at PhonePe, which wants to extend the use cases beyond this.
The company wants the app to be a ubiquitous experience, where the customer makes low-ticket transactions to merchants as well as high-ticket transactions such as payment of utility bills and remittances.
"For payments applications to succeed in the long run, customer interface and engagement is necessary along with innovation, ecosystem and security. We see there are many features getting added and gradually UPI-based transactions will have an edge over e-wallets," said Mishra.
"Work for UPI acceptance is already underway across segments. It will undergo a natural process of evolution and be available at a lot more places," said Gala.
Customer behaviour is the only deterrent, according to Neralla, which can be driven by infrastructure and a push by the government.
He said discouraging cash by imposing charges beyond a single withdrawal per month at automatic teller machines (ATMs) as well as reducing the number of ATMs in the country would help boost digital payments.