The sector witnessed a 24 per cent growth in gross loan portfolio to Rs 38,288 crore, year-on-year
Illustration: Uttam Ghosh/Rediff.com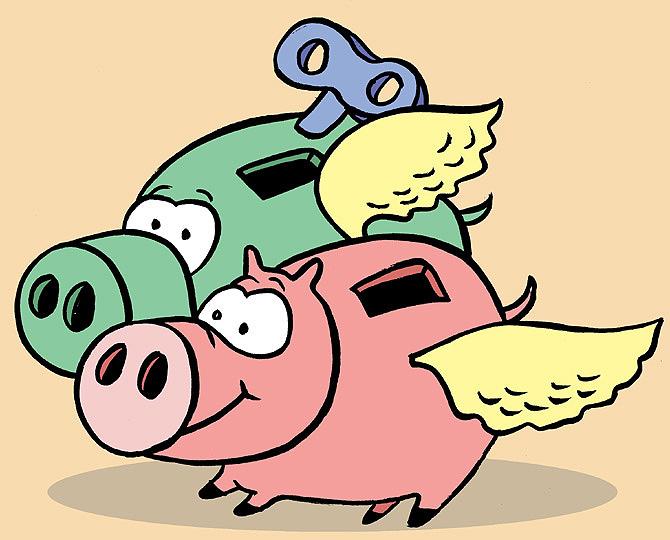 With their pool of micro-finance loans vulnerable to defaults declining, non-banking finance companies - micro finance institutions (NBFC-MFIs) have started recovering from the impact of demonetisation.
The portfolio of loans at risk (PAR) with dues over 30 days declined to 5.41 per cent at the end of September 2017 from 9.78 per cent at the end of June 2017, according to the Micro Finance Institutions Network (MFIN).
Similarly, PAR with dues over 90 days stood at 5.19 per cent in the September quarter, compared to 7.08 per cent in the June quarter.
The sector witnessed a 24 per cent growth in gross loan portfolio to Rs 38,288 crore, year-on-year.
Volume of loan disbursals by NBFC-MFIs increased 2 per cent over the corresponding period last year to 6.31 million loans in September 2017.
However, this was 15 per cent higher than the loans disbursed in previous quarter of the current financial year.
The loan amount disbursed during the September quarter also increased by 18 per cent to Rs 13,853 crore, against Rs 11,734 crore in the year-ago quarter.
Average loan amount disbursed per account has also witnessed a year-on-year increase of 15 per cent to Rs 21,971.
Of the total disbursement, 54 per cent were done in cash-less mode, mostly through direct transfer to the customers' bank account.
Ratna Vishwanathan, chief executive of MFIN, said, "NBFC-MFIs were now increasingly integrating digital modes for disbursements and collections which will help them mitigate logistical issues related to cash handling to some extent."
She added that the rise in disbursals and reduction of PAR signifies better performance from the sector.
NBFC-MFIs received Rs 8,338 crore in debt funding from banks and other financial institutions in September 2017, 138 per cent higher than previous year quarter.
Total loan portfolio of overall microfinance industry stood at Rs 111,539 crore as of September 2017.
Banks held the highest share of 36 per cent with a loan outstanding of Rs 40,076 crore.
This was followed by NBFC-MFIs, with a loan amount outstanding of Rs 35,939 crore, accounting for 32 per cent of total industry portfolio.
Small finance banks, NBFCs and non-profit MFIs account for25 per cent, 6 per cent and 1 per cent, respectively.
In terms of regional distribution of portfolio, South accounted for 29 per cent of the total industry portfolio, North 27 per cent, and East and West 22 per cent each.