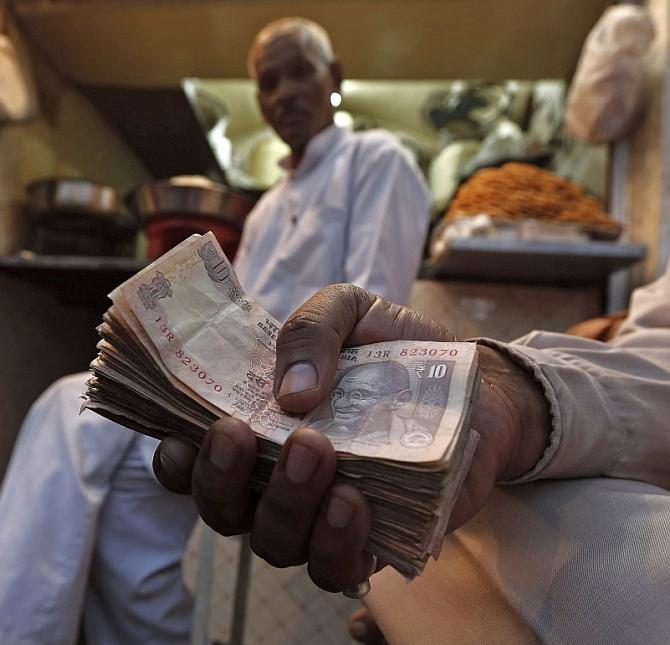 India has gone through this exercise twice, and here's what happened then.
First demonetisation, January 12, 1946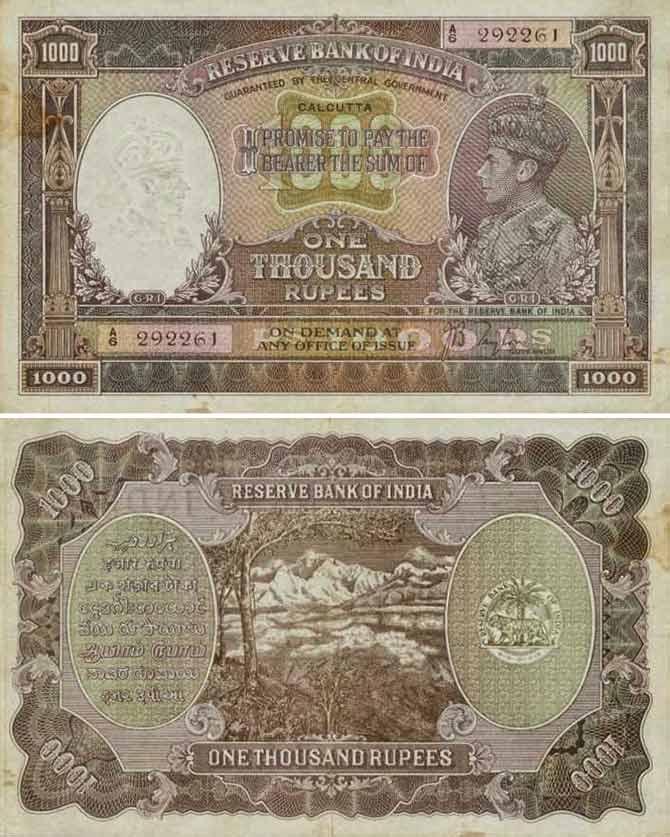 IMAGE: Issued in June 1938, this Rs 1,000 note had a portrait of King George VI wearing the Imperial Crown and Star of India robes.
It was demonetised on January 12, 1946.
Photograph: Kind courtesy worldbanknotescoins.com
Soon after World War II, while the government was giving attention to ways and means to avert the expected slump, thought was also given to check black market operations and tax evasion, which were known to have occurred on a considerable scale.
Following action in several foreign countries, including France, Belgium and the UK, the Government of India decided to demonetise high-denomination notes.
It is not known when the government authorities started thinking about the demonetisation measure, but the final consultation with the (Reserve Bank of India) governor (Sir Chintaman D Deshmukh) and Deputy Governor C R Trevor took place towards the end of 1945, when N Sundaresan, joint secretary, ministry of finance, called for a discussion, for which he had earlier prepared a note and the drafts of Ordinances to implement the scheme.
According to a note recorded by Sundaresan, it would appear the RBI authorities were not enthusiastic about the scheme.
The governor said the finance member had given him the impression that the scheme would be launched only when there were signs of the onset of an inflationary spiral.
The governor saw no special signs of such a situation. It appeared to him that the main object of the scheme was to get hold of the tax-evader.
The governor wondered if this could be called an emergency to justify the promulgation of an Ordinance, just before the newly elected legislative assembly met.
The governor wanted the government to be satisfied that there was no harassment to honest persons.
As a currency authority, the bank could not endorse any measure likely to undermine the confidence in the country's currency.
The government came out with two ordinances on January 12, 1946, which was declared a holiday.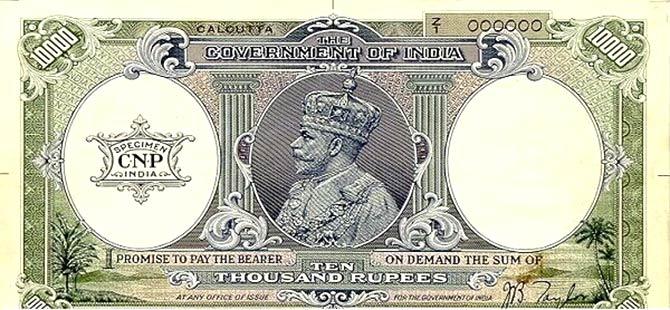 IMAGE: The profile of King George VI graces the Rs 10,000 note, which is the the highest ever denomination note printed by the RBI.
This note was issued in 1938 and demonitised in January 1946.
Photograph: Kind courtesy Dhaliwal's New Careers Academy
The first ordinance asked banks to furnish information about currency holdings of various denominations (Rs 100, Rs 500, Rs 1,000 and Rs 10,000).
The second was to tell people that denominations of Rs 500 and above were declared illegal; Rs 100 was spared.
People were given 10 days to exchange their old currency. This was later extended to February 9.
But the situation was complex. There was also the issue of the princely states.
The measure did not succeed as, by the end of 1947, of a total issue of Rs 143.97 crore of the high-denomination notes, notes of the value of Rs 134.9 crore were exchanged.
Thus, notes worth Rs 9.07 crore were probably 'demonetised,' not having been presented.
Second Demonetisation. January 16, 1978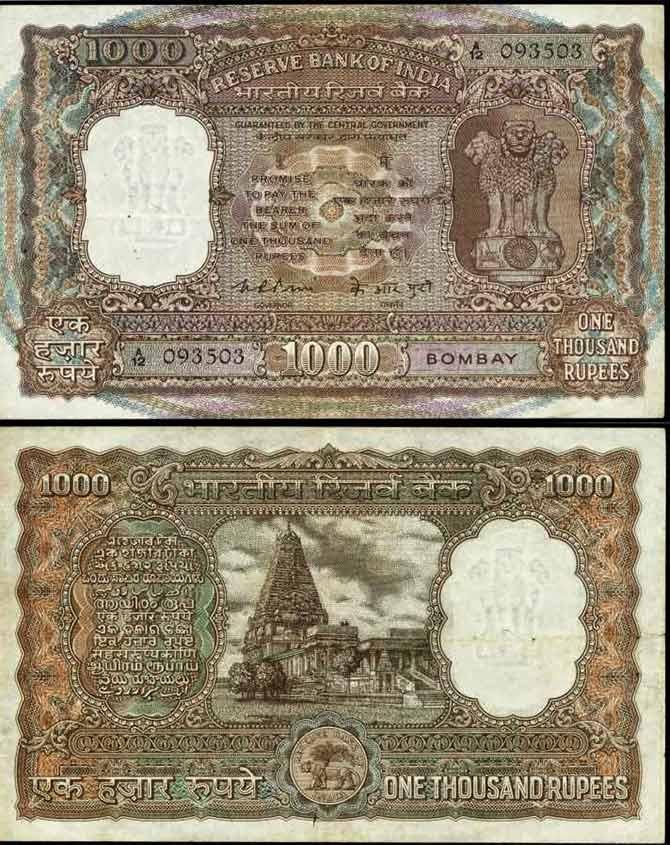 IMAGE: This Rs 1,000 note, first issued in 1954, has a view of the Tanjore temple -- now known as the Brihadeeswarar temple -- on the central panel in the note's reverse side.
It was demonetised on January 16, 1978.
Photograph: Kind courtesy worldbanknotescoins.com
Then finance minister H M Patel, in his Budget speech on February 28, 1978, said: 'The demonetisation of high-denomination banknotes was a step primarily aimed at controlling illegal transactions. It is a part of a series of measures which the government has taken, and is determined to take against anti-social elements.'
R Janakiraman, a senior official in the chief accountant's office in RBI, got a phone call on January 14, 1978, summoning him to Delhi.
On reaching Delhi, he was asked to write the demonetisation ordinance within 24 hours.
He used the previous ordinance as a guide.
On January 16, 1978, All India Radio, in its 9 am news bulletin, announced that an ordinance had been promulgated.
The ordinance provided that all banks and government treasuries would be closed on January 17, 1978, for transaction of 'all business except the preparation and presentation or the receipt of returns' that were needed to be completed in the context of demonetisation.
For purposes of the Negotiable Instruments Act, 1881, January 17, 1978, was deemed to be a public holiday notified under the Act.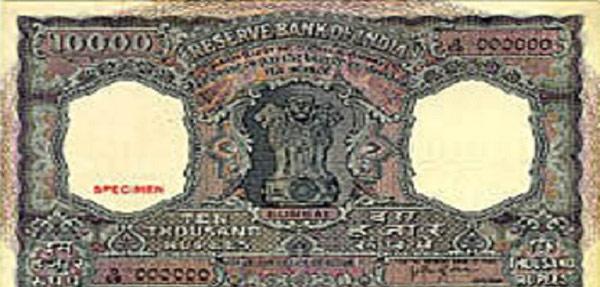 IMAGE: The Rs 10,000 note was reissued in 1954 and demonitised in January 1978.
Photograph: Kind courtesy Dhaliwal's New Careers Academy.
People got three days to exchange high denomination notes.
Banks and government treasuries were required to submit information (in the form of data 'return') to the RBI of high-denomination notes held with them as at the close of business on January 16, 1978.
Long queues started forming in front of the RBI office right from the morning as also at the main office of the State Bank of India, to collect declaration forms.
According to press reports on January 18, 1978, the day started with utter confusion over the issue of declaration forms at the RBI headquarters at Bombay and the working hours stretched to 6.30 pm.
Enterprising city printers are said to have made quick money selling forms in sets of three for Rs 3.
RBI Governor Dr I G Patel was not in favour of this exercise.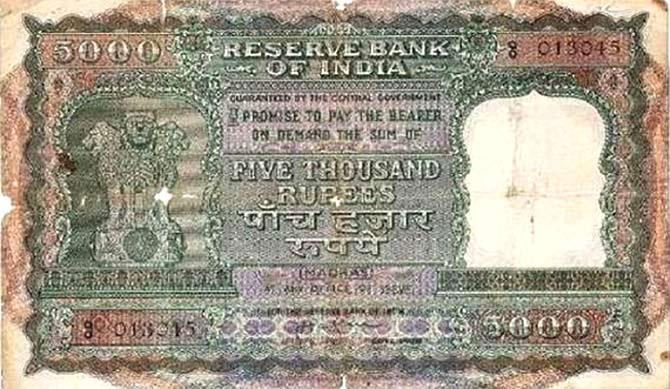 IMAGE: The Rs 5,000 note was reissued in 1954 and demonitised in January 1978.
Photograph: Kind courtesy Amrit Dash/Quora
In his book, Glimpses of Indian Economic Policy: An Insider's View (page 159), Dr Patel recalled that he told (finance minister) Patel 'such an exercise seldom produces striking results.'
'Most people who accept illegal gratification or are otherwise the recipients of black money do not keep their ill-gotten earnings in the form of currency for long.'
'The idea that black money or wealth is held in the form of notes tucked away in suitcases or pillow cases is naive.'
'And in any case, even those who are caught napping -- or waiting -- will have the chance to convert the notes through paid agents as some provision has to be made to convert at par notes tendered in small amounts for which explanations cannot be reasonably sought.'
'But the gesture had to be made, and produced much work and little gain.'
Around Rs 73.1 crore was the demonetised amount (from bank notes of Rs 1,000, Rs 5,000 and Rs 10,000) in 1977-1978.
Compared to this, Rs 1,067 crore was added by Rs 100 alone and the rest of the smaller denominations made up another Rs 650 crore.
Sources: RBI History, RBI Balance Sheet, RBI Currency and Finance Report