The French retail giant said to be unhappy over some 'tough' policy riders.
French retail chain Carrefour could review its plans to set up stores in India, if some of the "tough" policy riders are not relaxed. The euro 80-billion chain, the second-largest in the world after Walmart, is learnt to have sent feelers to the French government, as well as some key Indian ministries, expressing its "reluctance" to invest here due to uncertainties around the foreign direct investment (FDI) policy for multi-brand retail.
The Cabinet had in September last year cleared the policy, allowing up to 51 per cent FDI in multi-brand retail. But, despite the high level of interest in the $500-billion Indian market, foreign chains have yet to come up with proposals, as some guidelines "lack clarity" and, they claim, are tough to comply with.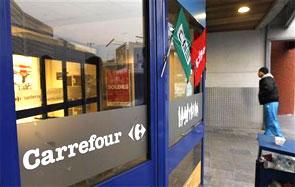 Among the norms making global players jittery are the 30 per cent mandatory sourcing from small and medium enterprises, at least 50 per cent investment in back-end infra and state-wise approvals. The government's stand on not allowing FDI in e-commerce is also seen as a hurdle, as most foreign chains have been pushing the online format to cut cost and beat competition.
According to highly-placed sources, the French retailer, which was keen to expand India footprint from being just a cash-and-carry (wholesale) player, is now "going slow" and might even decide to "review" its investment plans, if things didn't go according to its expectations. Top Carrefour representatives, in their meetings with the government, are learnt to have demanded certain significant changes in the policy.
To address foreign retailers' concerns and to woo them back, the commerce ministry is understood to be planning to issue a comprehensive clarification.
Asked if the company was reviewing its India plans and had conveyed its disappointment to the French and Indian governments, Carrefour's India spokesperson said the company had "no comments" to offer.
Besides India, where it only has cash-and-carry operations, Carrefour is present in two other Asian markets - China and Taiwan. As of December 2012, it had 218 hypermarkets in China and 61 hypermarkets and three supermarkets in Taiwan. Over the past few months, it has withdrawn from key Asian markets like Singapore, Malaysia and Indonesia, to reduce debt and generate cash flow. Among other geographies, it has exited from Colombia and cut stake in Turkish business, triggering speculation it might withdraw from there, too.
In India, Carrefour runs a fully-owned cash-and-carry business, with four wholesale outlets - one each in Delhi, Jaipur, Meerut and Agra. It has yet to identify an Indian partner for retail operations.
On the other hand, the US' Walmart, which has 20 wholesale outlets in India under a 50:50 joint venture with Bharti, is expected to extend the partnership for front-end retail, too. The UK's Tesco has a franchise agreement with the Tata group for back-end and wholesale; these two are also likely to extend the partnership for retail.
On the back foot
Contrary to earlier plans, Carrefour has decided to go slow in India
FDI policy for multi-brand retail has been a sore point for the retail chain
Riders in the policy have been a concern and Carrefour has conveyed this to the government several times
An Indian partner for retail has yet to be identified by the French firm
A set of clarifications addressing investors' concerns is expected to soon come from DIPP
Photograph: Francois Lenoir/Reuters