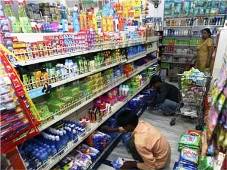 Global retailers, including Tesco and Sainsbury's, have expressed keen interest in setting up of multi-brand retail stores in the country, Commerce and Industry Minister Anand Sharma said on Tuesday.

"There have been expression of interest. . .the first step has been taken by Tesco, by Sainsbury's.

"There has also been an expression of interest but not a formal proposal, from Carrefour, H&M. So they all are coming," Sharma told reporters on the sidelines of a function here.

He said that some of the major global players like the UK-based Tesco and Sainsbury's have sourcing subsidiaries in India.

Multi-brand foreign retailers such as Walmart, Metro, Carrefour and Tesco have already invested in India under cash-and-carry arrangements.

Earlier this month, Chairman of France-based Auchan, one of the world's largest hypermarket chains, Auchan Vlanney Mulliez had called on Sharma.

The French company has plans to open 60 stores in India.

At present, Auchan has 13 hypermarkets in India operating under a franchise agreement with Max Hypermarket India.

India allows up to 51 per cent foreign direct investment in multi-brand retail.

As per the regulations, foreign retailers planning to enter the multi-brand segment would have to invest a minimum of $100 million, with 50 per cent of it in the back-end infrastructure.

Allaying fears that foreign retailers will impact the growth of domestic players, Sharma said that the small kirana stores and vegetable vendors will survive with the big stores.

He said concerns have been raised about the negative
affect of foreign outlets like McDonald on the Indian food retailing sector but domestic players like Haldiram's, Bikanerwala and Nathu's have grown not only in the country but also in western countries like the US and Europe.
"They (domestic players) are all over and they are growing. Have they shut down their shops? The answer is no. You may eat a pizza but you are not going to give up your dosas and samosas," he said.
He was speaking at the function of National Restaurant Association of India.
"I have been told that even McDonald have to do some kind of adaptations so that they could increase their Indian clientele when it comes of Indian taste buds," he added.
He said when big domestic retailers like Reliance and Bharti entered the sector, questions were raised about their impact on the existence of small "corner" shops and vegetable vendors but "that (job losses) did not happened.
"Even today 96 per cent of the retail in India is with the small retailers and only 4 per cent is organised".
Further talking about Indian economy, the Minister said that early implementation of Goods and Services Tax would bring a major change in the economy.
"This will happen soon," he added.
On exports, he said that the recent announcement of incentives to exporters would help the country's shipment to grow at healthy rate.
"I am sure that 2013 will be a better year when it comes to our foreign trade both in merchandise as well as in services. We will make every possible effort for that," Sharma said.
India's exports grew for the third month in a row, rising by 6.97 per cent in March though on annual basis it declined 1.76 per cent to $300.6 billion in 2012-13.