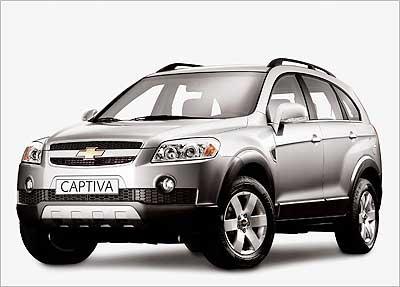 Finally, it's all coming together for General Motors India. For a while, GMI's portfolio had a large, er, small gap -- what they needed was small car to bring in the volumes. Now, within a span o f just four months, they have not one, but two smart superminis, the Aveo U-VA and the Spark. But it does not end there -- the game is just beginning to unfold at GMI.
The Chevrolet Optra sedan that has so far been petrol powered will get GM-Daewoo Automotive Technologies' (GM-DAT) newly developed 2,000cc TCDI diesel engine. Running on 1600 bar pressure, the four-cylinder common rail diesel will produce 120 bhp of peak power and a staggering 28.6 kgm of peak torque turning the wheels at 2,000 rpm -- bettering those of the current king of the crop, the Skoda Laura.
For the first time since the Opel Astra 1.7 turbodiesel, GM India will offer an oil-burner in a sedan. The Optra that has seen declining sales over the past two year will receive another shot in the arm with a new headlamp and grille treatment, a new tail-lamp cluster and revised interiors.
The facelift will enable the Optra to share a lot of parts with the SR-V hatchback. Importantly, it will allow GM to finally pose a strong challenge to the Skoda Octavia, which has been dominating the diesel sedan segment for years now. Expect the Optra diesel to be launched as early as the first week of June with a price tag of around Rs 9 to 10 lakh.
That's not all. Looking at the success of SUVs in the Rs 15-20 lakh segment in the country, Chevrolet will fly in its newest mud-plugger that has gained a lot of street cred in Europe. Powered internationally by petrol as well as diesel engines, the very good looking Captiva, if launched with both will make it the only SUV in its segment to offer two differently fuelled powertrains.
With seating for five or seven occupants, the Captiva's 2,400cc petrol and 2,000cc diesel engines have enough grunt to keep up with competitors in this segment. Producing 141 bhp for the petrol and 150 bhp for the diesel, the Captiva should do sub 12-second times to 100 kph and see top speeds getting ever so close to the 200 kph mark.
Featuring ABS, ESP, leather seats, a high-end audio system, 16-inch tyres et al, the Captiva should be just what the doctor ordered to sizzle up the SUV market. What might hold the trump card for GM India will be the pricing, which we expect to be around Rs 18 lakh, well under the Honda CR-V's Rs 20 lakh.
With products spanning the entire range from Rs 3 lakh to Rs 20 lakh, 2007 could mark the beginning of good times for General Motors in India.
Powered by