Capital expenditure (capex) by 54 large central public sector enterprises (CPSEs) and five departmental arms with an annual capex target of Rs 100 crore and above has reached around 42.5 per cent of their annual target of about Rs 7.33 trillion in this financial year so far, a senior official from the Ministry of Finance told Business Standard.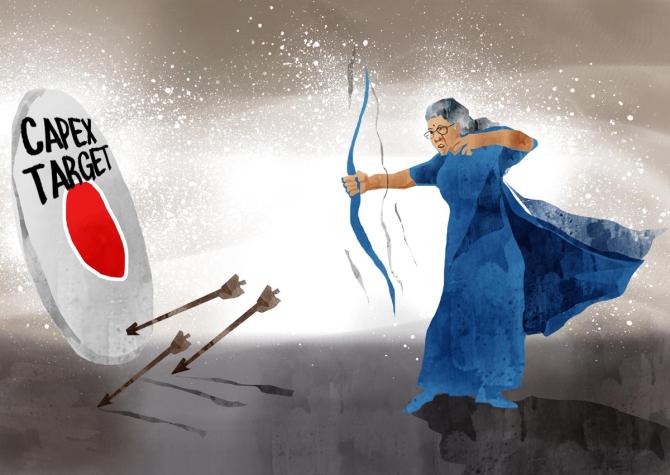 "The Centre is pushing the big public undertakings in the infrastructure and refinery sector to achieve 90 per cent of their target by the end of the third quarter," he said.
The capex by this group of CPSEs stands at around Rs 3.1 trillion in the April-August period so far.
This is around 37 per cent growth in capex compared to the roughly Rs 2.27 trillion spent in the same period of FY23.
The central government had increased the capex target by 13.4 per cent in FY24 over the revised target of about Rs 6.46 trillion in FY23.
During FY23, these CPSEs and departmental arms were able to achieve 100.5 per cent of their full-year revised target of approximately Rs 6.46 trillion.
In the first five months of FY24, the National Highways Authority of India has spent approximately Rs 75,168 crore (46.4 per cent) against its annual capital expenditure target of about Rs 1.62 trillion; Indian Oil Corporation (IOCL) achieved 51 per cent of its capex target of roughly Rs 30,395 crore on the back of the resumption of work on its pipeline projects and the expansion of its refining capacity.
The Railway Board, excluding the Dedicated Freight Corridor Corporation of India and Kolkata Metro Rail Corporation, has spent around Rs 1.13 trillion (46.6 per cent) of the capex target of approximately Rs 2.44 trillion.
The official said the capex targets were taken seriously by these CPSEs as they help the government in evaluating their performance and deciding on performance-related pay.
India's largest crude oil and natural gas producer, ONGC, has spent approximately Rs 12,791 crore in the first FIVE months against the annual capex target of Rs 30,125 crore.
NTPC managed to achieve 29 per cent of its annual target of Rs 22,454 crore.
Hindustan Petroleum Corporation (HPCL) and Bharat Petroleum Corporation (BPCL) spent around Rs 6,024 crore (59 per cent) and Rs 3,278 crore (33 per cent), respectively, of their annual target.
Fuel retailers and refinery companies — IOCL, BPCL, and HPCL — collectively saw their capex target raised by 67 per cent, from approximately Rs 30,293 crore in FY23 to around Rs 50,605 crore in FY24.
The increase in petroleum capex would enable the retrofitting of refineries to meet emission standards and partly augment strategic reserves.
The capex report of these CPSEs is sent for review to the Prime Minister's Office (PMO) after the end of every month.
The Centre has been focusing on a capex-led recovery for the economy through the exchequer as investments from the private sector lag.
In the Union Budget 2023-24, Finance Minister Nirmala Sitharaman announced an increase of 33 per cent in the capex outlay to approximately Rs 10 trillion.
In the April-July period of FY24, the Centre was able to spend 31.7 per cent of its full-year capex target of approximately Rs 10 trillion, according to the latest data available from the Controller General of Accounts.