Canada and India's relationship has been marked with friendship and strong ties, said Finance Minister Jim Flaherty, chief guest at the Indian Independence Day celebrations hosted by Indian Consul General Preeti Saran.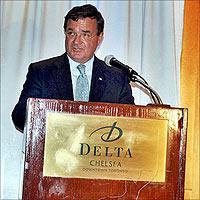 'We are nations shaped by the common Empire,' Flaherty said. 'We are also democratic nations that are ethnically and linguistically diverse. Today, India and Canada are growing closer.'
He spoke of the recent G20 Summit in Toronto.
"We worked very closely and cooperatively during the G20 Summit not only around the G20 table, but also in the preparation for the G20 meetings to enhance regulations and strengthen transparency in the global financial market, he said.
'We were successful allies in G20 in opposing the proposed international global bank tax… Not only is India our Commonwealth partner, it is an increasingly important economic and trade partner for Canada."
He added that Canada's trade with the country had increased by 70 per cent since 2004.
He also spoke of his visit to India in May when he met his Indian counterpart Pranab Mukherjee and Planning Commission deputy chairman Montek Singh Ahluwalia and visited several Canadian companies operating there.
"Probably the more striking visit was to Mahatma Gandhi's museum in Mumbai… 'It (is) appropriate on this day to reflect on the enormous contribution made by this great man to India and to the world. His love for India, dedication to its people and commitment to justice are inspiration to all of us who choose public service," he added.
Image: Jim Flaherty