It can if your debit card belongs to a PSU bank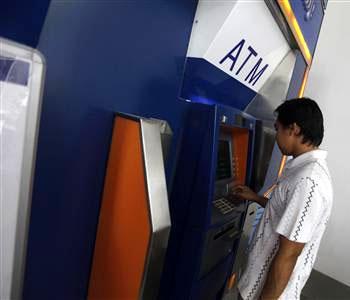 I'm quite happy and relieved today. Not because I have a got a promotion or a hefty salary hike (I wish it was true). But simply because I can 'proudly' re-enter the ATM unit of one of India's largest public sector banks and withdraw cash after a long wait of two months.
You must be wondering what I'm talking about. Let me explain.
I lost my wallet in Central Mumbai during mid-February this year. After waiting for two days - hoping that someone may return it - I finally blocked my bank ATM-cum-debit cards (one each of a private and a public sector bank) and applied for new cards. I also had two credit cards, of the same banks, which i reapplied for.
Within five working days, three of the four cards - two credit and a debit card - were delivered to me and the respective secret PINs followed. The other debit card which did not come was of the public sector bank. Interestingly, I had to personally go to my home branch here in Mumbai to apply for a new card (though it was not required with other lost cards). That was my first visit to the bank since the collapse of Lehman Brothers.
One of the executives in the branch told me, "It would not take less than 15-20 days to get the card and its PIN." I was a little aghast but responded, "No problem, Sir. I'll wait."
What followed was a nightmare. Forget 15 or 20 days, it took 25 days only for the card to reach me. I'm not joking, but it was only half the journey. The 'secret' PIN was still awaited.
As instructed, I visited my home branch after seven days of card delivery to get the PIN. To my surprise, my bank did not have a system which could instantly tell me whether it has come or not. Rather, the lady executive handed me a big, heavy register, and asked, "Find out if your name is there." The register had handwritten names of those customers whose PINs had arrived in the branch. I kept turning the pages but did not find mine. I was told to visit again after five days.
I paid three more visits (every five days) but in vain. I even asked the executive who handles this to contact me if my PIN comes. That call never came. I was not alone going through this ordeal. During all these visits, I became acquainted with customers who also had been struggling like me.
Today was my fifth attempt and thankfully I got my PIN. It's a co-incidence that it was this date in February (15th) that I applied for the new card.
For six years I never visited my bank branch. But in the last two months, I was made to visit it six times only to get my debit card and PIN. What is painful is that the chairman of this public sector bank believes that the bank is far ahead in using technology when compared with others. Alas, I could not even get a phone call or an SMS regarding my problem.
I realised why market experts and fund managers prefer investments in private sector banks. I recollect one of them saying that the market share of private banks will soon surpass the public sector ones. I'm afraid that I can't disagree.
What's the lesson learnt? Take special care of your debit cards, especially when the issuer bank is a public sector undertaking.
By the way, six taxi trips to visit my bank's home branch cost me Rs 300 in all.