Cairn India on Friday said its UK-based parent Cairn Energy Plc is unlikely to exit completely from the company.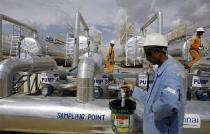 "To me it looks like they (Cairn Energy Plc) are not exiting completely," Cairn India CEO Rahul Dhir said after a meeting with Oil Secretary S Sundareshan. Dhir may have briefed the Oil Secretary about the transaction as owner change of Cairn India will require the government approval.
Billionaire Anil Agrawal-owned mining firm Vedanta Resources yesterday said it is in talks to buy a stake in Cairn India, the company that owns the nation's largest onland oilfield.
Dhir, however, did not divulge details of the discussion between Cairn Energy Plc and Vedanta Resources.
"I am not aware of that. The discussions are taking place between majority shareholder and Vedanta. I am not part of those discussions." Cairn Energy holds a 62.37 per cent stake in Cairn India.
 Dhir said the company is currently producing 1,25,000 barrels per day of crude oil from Rajasthan fields which have a potential to go up to 2,40,000 barrels per day.
In addition, the Bhagyam field in the same block has the potential to produce 40,000 bpd and the Aishwariya another 10,000 bpd.
The company owns a 70 per cent stake in the fields, while the rest is held by state-owned Oil and Natural Gas Corp.
It also owns interest in Ravva oil and gas field off the East Coast and Block CB/OS-2 in the Cambay Offshore Basin.