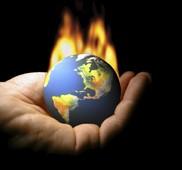 India will pitch for the principle of common but differentiated responsibility at the negotiating table in Rio de Janeiro, Brazil, where global leaders will meet for the Earth Summit later this month.

The Union cabinet on Friday gave its "full mandate" to the negotiating team led by Environment Minister Jayanti Natarajan to put forth India's arguments on sustainable development at the meet.

Natarajan told reporters, "We will be negotiating to make sure the Rio principles are reaffirmed and all sustainable development has to be viewed with the approach of equity and common but differentiated responsibility, so that developing countries can have their share of development."

Even as the Indian delegation is gearing up for the summit, differences between India and the developed nations have already surfaced.

Natarajan is against the new 'green' economy norms propagated by the European Union,
according to officials.
The minister is also opposed to any specialised body for environment that the EU is likely to recommend at the summit.
Natarajan did not share details on whether the Cabinet had approved India's stand in this regard.
The meet, to be held on June 20-22, is aimed at providing the time and space for global leaders to come together and define a sustainable development pathway.
The UN Conference on Sustainable Development in 2012 is also referred to as 'Rio+20' because it will take place in 2012, just 20 years on from the original 'Earth Summit', the Rio Conference on Environment and Development that took place in the same city in 1992.
The cornerstone of the discussion at this summit is likely to be on how to build a 'green' economy that reduces poverty without destroying the environment and how to improve global governance.
The aim is to start a process so that by 2015, the international community can agree on a set of global sustainable development goals.