The prime minister was often seen vigorously thumping the desk, prompting his Cabinet colleagues and NDA MPs to follow suit.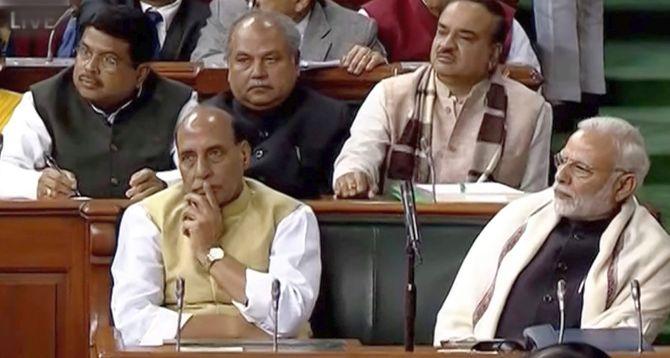 Image: Prime Minister Narendra Modi and Home Minister Rajnath Singh listen intently as Finance Minister Arun Jaitley (not in photo) presents the Union Budget in Parliament on February 1, 2018. Photograph: PTI Photo/TV Grab.
Finance Minister Arun Jaitley on Thursday presented his fifth straight Budget in the Lok Sabha with a speech that lasted almost two hours.
He was greeted by Prime Minister Narendra Modi soon after he completed his speech which went on for one hour and 50 minutes.
The prime minister was often seen vigorously thumping the desk, prompting his Cabinet colleagues and NDA MPs to follow suit. Modi also kept encouraging his finance minister.
The loudest thumping of desk by the PM was witnessed when Jaitley spoke about the Pradhan Mantri Ujjwala Scheme, which was followed by his announcement of the National Health Protection scheme to cover 10 crore poor and vulnerable sections.
The 66-year old finance minister, who was wearing a grey kurta and a black Nehru coat, read out his speech by sitting in his seat after delivering the address standing for 25 minutes. In the last few minutes, Jaitley again rose and completed his speech.
He was greeted by his Cabinet colleagues, including Sushma Swaraj, Rajnath Singh and Nitin Gadkari, after the budget presentation.
However, no opposition leader came to greet him barring suspended BJD leader Baijayanta J Panda who also shook hands with the prime minister twice.
Congress President Rahul Gandhi was often seen engaged in small talk with Jyotiraditya Scindia and Kamal Nath during the entire Budget speech.
Gandhi, who came just after the proceedings commenced, left for a brief period but was back before Jaitley ended his speech.
UPA chairperson Sonia Gandhi, Lok Sabha Deputy Speaker M Thambidurai, Congress leader in the Lok Sabha Mallikarjun Kharge, former prime minister H D Deve Gowda, Samajwadi Party leader Mulayam Singh Yadav and other Opposition leaders were also present during the Budget speech.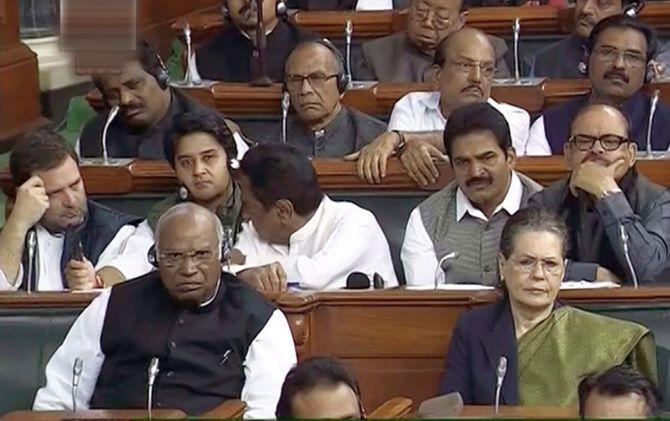 Image: UPA chairperson Sonia Gandhi, Congress leader Mallikarjun Kharge, Congress president Rahul Gandhi attend the Union Budget 2018 presentation in Parliament on February 1, 2018. Photograph: PTI Photo/TV GRAB.
Chandrakant Khaire, MP from Shiv Sena which has announced that it would go solo in the 2019 Lok Sabha and state assembly polls, walked up to Jaitley and greeted him.
A number of Rajya Sabha MPs were also seen in the gallery meant for members of the Upper House.
Jaitley's wife Sangeeta and son Rohan were present at the speaker's gallery to witness his Budget presentation.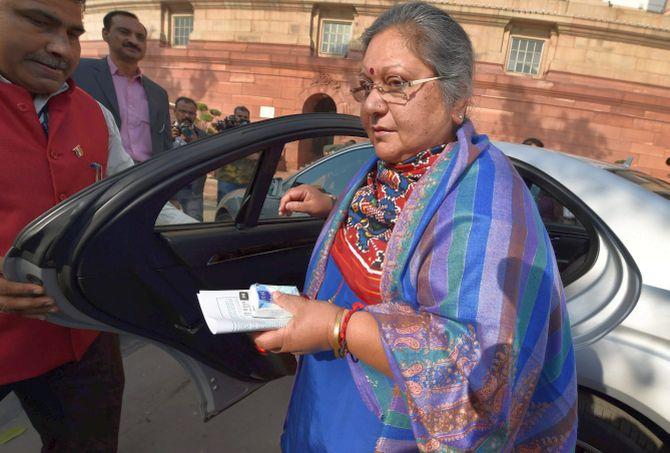 Image: Finance Minister Arun Jaitley's wife Sangeeta Jaitley arrives to attend the Union Budget 2018-19 at Parliament House in New Delhi on February 1, 2018. Photograph: Manvender Vashist/PTI Photo.
Among those present were Majeed Memon (NCP), Rajeev Chandrashekar (Independent), Naresh Gujral (SAD), Swapan Dasgupta (Nominated), D Raja (CPI), Vinay Sahrasabuddhe (BJP) and Parimal Nathwani (Independent).
Jaitley was the star attraction of the day. He was in his seat well before the House convened for the day. The Lok Sabha staff provided him with a lapel microphone.
Before the Budget presentation, Jaitley also greeted BJP veteran L K Advani and shared a smile. Senior Congress leader Kamal Nath walked up to Jaitley to greet him.
The treasury benches were almost packed but there were a few empty seats in the opposition benches.
As the finance minister kept speaking of the 2022 target for full implementation of several schemes, Kharge interrupted him saying whether Jaitley was reading the Budget speech for 2018-19 or 2022.
But an unperturbed Jaitley kept reading his speech, ignoring the barbs.
However, when Jaitley was announcing a relief to Medium Small and Micro Enterprises, the Opposition raised a hue and cry stating that concessions were being given to corporates. Jaitley hit back asking, "Madam (Speaker), are they objecting to any concession to the MSMEs?"
BJP MP and cine star Shatrughan Sinha, who has been vociferous in his criticism of the Modi government, was seen patiently listening to the Budget speech.
Sinha was also seen engaged in small talk with his party colleague from Bollywood Hema Malini, who was sitting in the fourth row but across the aisle.
Senior BJP leader L K Advani was seen in a very playful mood. Dressed in navy blue safari suit and sporting a cap of the same colour, he entered the House five minutes before 11 am when the proceedings began.
Jaitley was already in his seat. As Advani walked up to occupy his seat, Jaitley greeted him. But oblivious of it, Advani was accepting greetings from senior BJP MP Shanta Kumar and Union minister Pon Radhakrishnan.
As Advani took his seat next to Jaitley, the veteran leader smiled and had a brief talk, while the finance minister was seeing holding the BJP veteran's hands.
Several MPs, mostly from the BJP, were seen in colourful headgear. Urban Development and Housing Minister Hardeep Singh Puri wore a lavender turban matching his jacket while the SAD's Prem Singh Chandumajra and AAP's Bhagwant Mann stuck to their regular saffron and yellow colours respectively.
Minister of State for Parliamentary Affairs Arjun Singh Meghwal wore a saffron and green pagdi while Sakshi Maharaj was in his regular saffron headgear.
Complete coverage: Union Budget 2018