This year, the FM had his task cut out for him­­­-dealing with the looming fiscal deficit, appeasing the electorate and averting a possible sovereign ratings downgrade.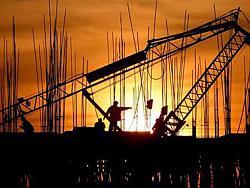 Working within these constraints, he has managed to introduce measures that could spur growth in the medium to long term for the infrastructure industry. Now, it remains to be seen how effectively these measures are implemented.

Infrastructure Finance

Infrastructure investment is key, not just to encourage new investment, but also to kick-start stalled projects with a fresh injection of funds. Towards this end, the FM has proposed these measures.

Infrastructure Debt

The FM has allowed some institutions to issue tax-free infra bonds (possibly NHAI, HUDCO etc.) up to Rs 50,000 crore (Rs 500 billion) in FY14.

While encouraging Infrastructure Debt Funds (IDFs), the FM has also provided parity in taxation between an IDF-Mutual Fund that distributes income and an IDF-NBFC that pays interest to a non-resident.

The tax rate for both will be 5 per cent. IDFs, through take-out finance, credit enhancement and other innovative means, provide long-term low-cost debt.

The MF/AIF format of IDFs can be especially useful for the power sector, where the classical PPP model with debt buyback does not exist. The IDF-AIF has the potential of evacuating the power sector's overweight exposures of banks.

India Infrastructure Finance Corporation Ltd (IIFCL), in partnership with the Asian Development Bank, will offer credit enhancement to infrastructure companies that wish to access the bond market to tap long-term funds.

Tax incentive: Re-introduction of Investment Allowance of 15 per cent

The FM, with a view to incentivise large capex by industry and spur the investment climate, has re-introduced an investment allowance (15% of the investment) for new high value investments over Rs100crore in plant and machinery for two years. This will be in addition to the current rates of depreciation.

Measures to remove bottlenecks and kick-start the investment cycle

CCI to fast-track large projects

The Cabinet Committee on Investment that will focus on oil, power and coal projects and monitor investment proposals as well as stalled projects.

It will help remove bottlenecks in the process and quicken the pace of implementation. This can get quicker results, so I hope that the Committee meets very frequently in the next 3-4 months.

Roads

About 3,000 kms of road projects in Gujarat, Madhya Pradesh, Maharashtra, Rajasthan and Uttar Pradesh will be awarded in the first six months of 2013-14,
according to the FM.
This may seem a tad ambitious, but if these awards are in the form of EPC contracts instead of the BOT model, there could be more takers and this could see a fresh injection of funds that could kick-start the investment cycle.
The FM has also spoken of constituting a Roads Regulator. There has been a long-standing demand for such an independent authority. The key functions of the regulator may include tariff setting, regulation of service quality, assessment of concessionaire claims, collection and dissemination of sector information, service-level benchmarks and monitoring compliance of concession agreements.
If so, then it could have the following positive impact: Faster resolution of disputes and therefore release of substantial amount of money blocked due to claims unrecognised by NHAI.
A move to an independent regulator will help in balancing contractual arrangements between developers and NHAI and result in better contract monitoring and management.
These measures will benefit the sector in the medium- to long term (much sooner in the case of EPC contract awards) and give a boost to the construction, steel and cement sectors.

Sectoral focus


Coal production

The FM has mentioned Public-Private Partnership (PPP) in coal mining and evacuation. This is welcome as it should raise coal production and reduce dependence on imported coal. The benefits of such a move, however, will only be seen in the medium-to long term.

Ports focus

Two new major ports will be established in West Bengal and in Andhra Pradesh to add 100MT of capacity. In addition, a new outer harbour will be developed in the VOC port at Tamil Nadu through PPP at an estimated cost of Rs 7,500 crore.
Renewable energy incentives

NCEF to provide low-interest bearing funds to IREDA to lend to viable renewable energy projects. The scheme will have a life span of five years.
Government would reintroduce 'generation-based incentive' for wind energy projects and provide Rs. 800crore to the Ministry of Non Renewable Energy for the purpose. This is a welcome move.

Extension of Section 80IA tax benefits for power

This is a positive step and the benefits could have been extended for a longer period.

Suneet K. Maheshwari is MD and C.E.O of L&T Infrastructure Finance