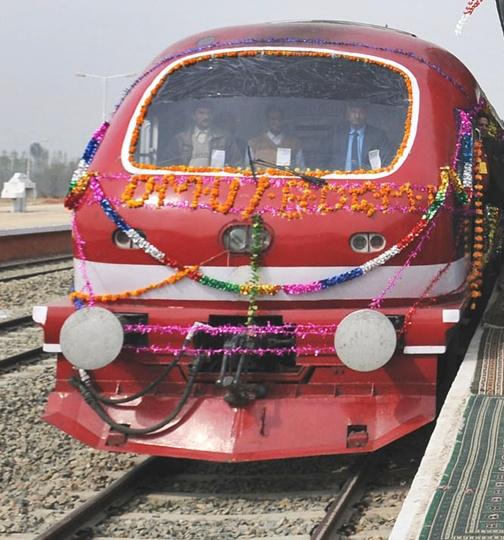 Image: Opposition criticizes Railway Budget. Photograph, courtesy: PIB
The opposition on Thursday attacked the first full-fledged Railway budget of the BJP-led NDA government saying it lacked vision and road map to execute the "nice ideas it is full of".
Leader of Congress in Lok Sabha Mallikarjun Kharge and TMC's Dinesh Trivedi, both of whom are also former Railway Ministers, slammed the budget for lacking in substance and merely "weaving dreams".
"It's a nicely-worded budget speech. But there is no vision as to how he is going to achieve goals. The minister says he will get into PPP model, BoT agreements, etc. If you depend on others, you are unlikely to meet your targets," Kharge said.
Trivedi, who has at times gone against his party's line in praising the government, was also disdainful for the budget, saying it has woven a dream for people but lacks plan to fulfil it.
"It's like saying I will go to moon. It's an idea, a dream but what is important is how are you going to reach there. It's all about future but your finances presently suffer from almost 50 per cent shortfall. How are you going to meet the gap," he said.
Trivedi, who was Railway Minister in UPA government and had to quit due to his party's opposition to his reform measures, went on to say that it was not a budget but just an idea.
"I see Railways going the Air India way. Its coffers are empty," he said.

Senior BJD leader Tathagata Satpathy also attacked the Railway budget, calling it hollow and disappointing. He said he would give only 2 out 10 points to it.
"It's completely hollow. He (Prabhu) spoke of an idea but that idea has not been enunciated, meaning not much thought has gone behind it," he told PTI.
Kharge also criticised Prabhu's decision to not announce new trains, saying development is not static like stagnant water.
Senior Congress leader M Veerappa Moily was critical of the rail budget saying it was just a vision document.
"There is no budget, it is only a vision document of 2013. Even the statement of accounts he said it is in the annexure. That should be the core theme of the budget. Then where is the budget. I think the budget has melted away in the aspiration of the minister," Moily said adding that according to him the budget scores zero marks out of ten.
However, Environment and Forests Minister Prakash Javadekar called it a "historic and innovative" budget which addresses environmental concerns in a much "focused" manner.
"This is absolutely a revolutionary budget. It reflects the vision of the Prime Minister for making railways a people oriented enterprise. It will ensure more safety, more facilities and it addresses the issue of resource crunch through innovative mechanism," Javadekar said.
He said that the budget also ensures transparency in process. "It is for the first time that greater emphasis has been laid on environmental protection by the Railways. Creation of
an Environment Directorate and initiatives like bio-toilets, energy audit, water and energy recycling and sensitivity towards wildlife are highly praiseworthy," he said.
Javadekar said steps initiated in the budget would not only improve safety, security and amenities of passengers but also enhance speed of travel on Indian railways.
Noting that the steps would also address resource crunch, he said the Railway Minister has come up with some technology-oriented services that would not only ensure transparency but is also user-friendly.
Akali Dal MP Prem Singh Chandumajra said that philosophy of the budget reflects the Prime Minister's vision and fulfill the needs of the present including safety budget.
He said it is good budget but added that till now there has not been an announcement on regarding what would be the facilities for different states. He however was optimistic that the demands of Punjab would be met soon.
Left slams Railway budget as regressive
The CPI(M) on Thursday said the Railway budget 2015-16 was "high on hyperbole but low on content" and will not bring the promised good days for the poor.
The central trade unions also described the railway budget as "utterly regressive" and said the fright hike will result in increase of prices of all essential commodities.
"In sum, this Railway budget is not going to result in 'acchhe din' (good days) for the poor, though the Railway minister quoted the Prime Minister saying that the railways will be an instrument for eliminating poverty," CPI(M) Polit Bureau said.
The party said that though the Railway Minister asserted that Indian Railways will continue to remain an asset of the people but the extent to which he wanted to raise resources for critical infrastructure through the PPP, BOT and others raises "serious" questions.
CPI(M) said that the budgetary allocations for extending railways to backward and far flung areas and greater access for the poorer sections are totally "inadequate".
"The railways will henceforth only prioritise the unfinished projects. Thus its social objectives will remain unaddressed. The Railway Minister's claim of a reversal of decline with the vision he spelt out hardly inspires any confidence," the party said.
The party also claimed that traffic growth has declined and expenditures "outstrip" according to revised estimates.
"There are 4.6 crore less originating passengers. The passenger earnings were short by Rs 968 crore proving earlier fare hikes to be counterproductive. Given this, there should not be any euphoria over passenger fares not being raised," the party said.
"The Rail Budget for the year 2015-16 was high on hyperbole but low on content. In fact, it has spelt out certain intentions with scarce factual details to translate these ideas into reality," it said.
Noting that the gross traffic receipts were Rs 492 crore as compared to the revised estimates, the party said that the railways success in generating internal resources for plan finances also falls short.
"Most importantly, the operating ratio was 2.7 per cent less only on account of reduction in the international crude oil prices and not due to the railways internal efficiency improvement," the party said.
It said that during the first three years of the 12th Five Year Plan, the railways received only Rs 1.5 lakh crore for investment but the Railway Minister "bombastically" promised that in the coming five years, this will increase to Rs. 8.56 lakh crore.
Meanwhile, Centre for India Trade Unions (CITU) said that apart from regressive, the budget is also threatening the jobs of railway workers including catering and maintenance.
"The Rail Budget, placed today by the Union Railway Minister Suresh Prabhu, is utterly regressive, under cover of rhetoric so far as growth and development of the national economy is concerned," it said.
CITU said that the fright hike will cause hike in the prices of all essential commodities and also increase miseries of the ordinary passengers by not introducing new trains despite huge passenger pressure on existing trains.
"This rail budget is threatening the jobs of railway workers in catering, cleaning and maintenance services due to outsourcing through e-catering services and eliminating the cleaning and maintenance services handing over the same to so called NGO and corporates," it said.
The trade unions said that the freight hikes of coal, cement, iron and steel will badly affect infrastructural development within the country and also make India-produced steel out of competition in the export market.
"Huge freight increase in coal will affect all manufacturing sector and will cause electricity price hike," it said.
TMC describes rail budget as 'anti-people'
Trinamool Congress described the railway budget proposals, presented on Thursday in Parliament, as "anti-people and anti-development" aimed only at befooling people.
Criticising the budget, TMC supremo and West Bengal Chief Minister Mamata Banerjee said the Centre was trying to befool the people in the country by saying there was no hike in passenger fare.
"But they have already hiked the rail fare after coming to power," she pointed out. Banerjee, a former Railway Minister, said the Centre had earlier promised that any decrease in diesel price would get reflected in the rail fare with a corresponding decrease. But, this was not done although diesel prices were reduced several times.
"With the decrease in diesel price six-seven times in the last one year, the fare should have been decreased too. But without doing that they are trying to take credit for not hiking the rail fare. It is an attempt to befool people," Banerjee regretted.
Furthermore, she pointed out, the state also failed to receive anything in this budget.
Senior TMC leader and state Panchayat and Rural Development Minister Subrata Mukherjee said the budget failed to serve the interest of people and railway employees, while passenger safety was not given due priority.
During her tenure as Railway Minister, Mamata Banerjee had announced 'Vision-2020' with her projection of various development till the year 2020, Mukherjee said adding "this rail budget neither have any vision, nor any action. We feel deprived."
"In this budget, the state has got no new project or train, while most of the ongoing projects, initiated during Mamata Banerjee's time, will suffer for want of funds," Mukherjee said.
The proposal of a Centre-state joint venture in Railway projects would ultimately go against the interest of states since state governments hardly had any source of earning revenue of their own, he further said.
Describing the budget as "unprecedented, anti-people and anti-development," Mukherjee also echoed Banerjee's critical line, saying "it failed to reduce fare with the decrease in diesel price despite assurances."
He noted that freight charges were increased considerably affecting people's interest.
"No new project for the state has been announced in the budget, which has opened the scope for FDI in railway projects, which will ultimately go against the interest of the biggest public sector entity," Mukherjee said.
But, he asserted, "We will not go to Delhi begging. We will have to claim our rights with the blessing of people democratically."
Shiv Sena says 'completely dissatisfied' with Rail Budget
The Railway budget came in for criticism from within the ruling alliance with NDA constituent Shiv Sena claiming it lacked clarity on how the money will come for the various projects.
"We are completely dissatisfied with the budget. They have said so many things in the budget. But from where will the money come?," senior Shiv Sena leader and North-west Mumbai MP Gajanan Kirtikar said, adding the budget has kept everyone in "dark".
Despite a patch-up post Maharashtra Assembly polls, Shiv Sena has been taking a stance against BJP on several issues, including the Land Acquisition Bill, reflecting the unease in ties. Railway Minister Suresh Prabhu had quit Sena to join BJP before his induction in the Narenda Modi Cabinet.
"He (railway minister) is talking about raising the height of platforms which requires Rs 97 crore. One has to allot money for these projects at one go if they have to be completed. They are talking about tripling and doubling lines, but which lines will they undertake work on. They have kept us in dark," Kirtikar said.
Taking a jibe, Chandrakant Khaire, Shivsena MP from Aurangabad, said "the budget is good but difficult to understand".
"People will ask us what has the region got from the budget? Now one has to read the budget and then come up with an explanation," Khaire said.