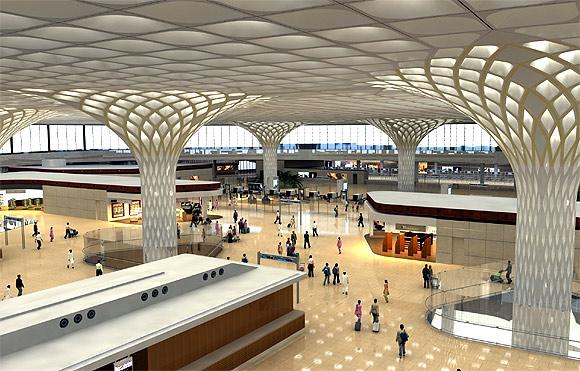 The success of public private partnership model in Indian airports has led to a significant improvement in infrastructure and collection of revenues, says the Economic Survey 2014-15.
It said during the April-December period, 101.34 million domestic and 36.74 million international passengers were handled at Indian airports.
"One of the significant achievements of the civil aviation sector is that the PPP model for airports has led to a significant improvement in infrastructure and in collection of revenues," the government document said.
The major initiatives aimed at augmenting better airport infrastructure are PPP projects at four airports of the Airports Authority of India -- Chennai, Kolkata, Ahmedabad, and Jaipur, it added.
The civil aviation sector is witnessing a number of initiatives to improve airport infrastructure across the country.
The other initiatives taken by the AAI are setting up of greenfield airports at Mopa in Goa, Navi Mumbai, Shirdi and Sindhudurg in Maharashtra, Shimoga, Gulbarga, Hassan, and Bijapur in Karnataka and Kannur and Arnamula in Kerala.
The other airports under this initiative are at Durgapur in West Bengal, Pakyong in Sikkim, Datia/Gwalior (cargo) in Madhya Pradesh, Kushinagar in Uttar Pradesh and Karaikal in Puducherry, the Survey said.
AAI is also looking at development of small airports in tier II and tier III cities -- Hubli and Belgaum in Karnataka, Kishangarh in Rajasthan, Jharsuguda in Odisha and Tezu in Arunachal Pradesh -- it added.
"During 2014-15, the AAI has completed development of airports at Bikaner and Jaisalmer in Rajasthan, Bhatinda in Punjab and Cuddapah in Andhra Pradesh," the Survey said.
Domestic passenger traffic throughput increased by 7.1 per cent and international passengers increased by 10.3 per cent during April-December compared with the same period in 2013-14, it added.
During the same period, international cargo throughput at Indian airports was 1.17 million tonnes while domestic cargo throughput stood at 0.74 million tonnes.
International cargo throughput increased by 8.3 per cent and domestic by 19.3 per cent in April–December compared with the corresponding period in previous year, it added.
Image: Mumbai airport's swanky T2; Photograph: Kind courtesy, MIAL
Budget 2015: Complete Coverage