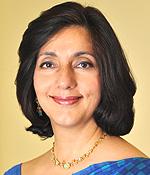 Meera Sanyal is Chairperson & CEO of RBS Bank in India.

She is also the President of the Indian Liberal Group and stood as an
independent candidate for South Mumbai in the 2009 Lok Sabha
elections.

In 2011 she was invited by Hilary Clinton to join the International
Council of Women Business Leaders.

During 2012, she undertook a Yatra to 120 villages across 12 states of
India, and continued this journey on the Jagriti Yatra a 9000 km train
journey with 450 young aspiring entrepreneurs.
In a chat with our readers, Meera Sanyal discussed about India's economic growth, its opportunities and the banking sector.

Here's the transcript.
karen asked, Hi... Will loans get cheaper?
Meera Sanyal answers, at 2013-03-05 14:09:27Hopefully as Inflation abates and the Regulator signals a drop in rates, banks will pass this on to Customers.
---
kareena asked, Are you happy or unhappy with the budget
Meera Sanyal answers, Given the tough economic situation both domestically and globally, the budget was a balanced one. I am happy that the FM has retained his focus on Fiscal consolidation
---
suraj asked, I have been putting Rs 70,000 in PPF. Should I continue putting such a big sum or am I better off investing in equity?
Meera Sanyal answers, PPF is still amongst the best savings options - post tax return is over 10 %
---
viraj asked, do you think this budget will lead to national growth?
Meera Sanyal answers, It should help to the extent it allows room for inflation to moderate (due to lower fiscal deficit) and as a consequence creates room for lower interest rates, which helps stimulate investment and therefore Growth
---
abid asked, when will inflation come down?
Meera Sanyal answers, Inflation is alreadty moderating, except for Food inflation which is still high.
---
costa asked, is a relationship manager the same as a financial advisor?
Meera Sanyal answers, No - a relationship manager manages your Relationship with the organisation. A financial advisor (who now has to be certified) is qualified to advise you on Investment decisions
---
Prabha asked, What are the opportunities and challenges for the banking sector in India?
Meera Sanyal answers, Opportunities : India is an under banked and fast growing economy, so opportunities are plentiful Challenges : Adequate capital (esp under Basle III); Risk management (NPA's are 3.5% of total advances); Uncertain global environment which has an impact on the Indian economy
---
Sreenivas asked, What are the growth prospects for India?
Meera Sanyal answers, The long term growth prospects for India are bright driven by factors such as favorable Demographics, High propensity to save, stable financial system and a intrinsic entrepeneurial spirit. In the short to medium term, some pick up in growth can be expected basis moderating inflation and lower rates, but execution of stated plans is critical
---
rahul asked, You are involved in many social activities? Can you highlight on that and on the work done by RBS on that
Meera Sanyal answers, The RBS Foundation is working in over 16 states to provide Livelihood assistance and skill building to over 55,000 women living in forest areas or threatened eco-systems. It is really heartening to see the tremendous innovation and enterprise amongst these women - who have with very modest amounts of assistance, managed to leverage themselves and their families out of Poverty
---
abhijit asked, Ma'am, given the fiscal deficit and current account deficit, India has a long term growth story? Although there's been huge inflows of capital in the Indian Economy, but still there are lots of challenges ahead of us which need to be looked into. The Banking sector is definitely is a growth factor for any economy, how do you see banking sector will evolve in coming years?
Meera Sanyal answers, Yes I do believe India's long term growth prospects are strong. The banking sector should continue to grow (see earlier response) and will have a crucial role to play in India's growth story
---
Sanjay Gupta asked, Do you believe in Work Life Balance? How do you manage this?
Meera Sanyal answers, Yes I believe balance in all aspects of life is important ! For myself, I try and segregate work and home life completely. Also have other interests which helps provide perspective and constant learning
---
pks asked, Hi, My question is not related to any RBS. Just tell something to motivate people who are new to leadership role. Thanks
Meera Sanyal answers, We live in very complex times. It is tough for any leader to have all the answers. So I believe each of us should surround ourselves with diverse teams - such that we can obtain many points of view and arrive at a reasoned and balanced decision.
---
Aarya asked, How was the Jagriti Yatra ? What are the insights that you got from different states?
Meera Sanyal answers, It was a very inspiring Journey - the role models we visited but also the yatris themselves were fascinating to interact with. I have returned full of optimism and hope - India is in good hands !
---
SamarSingh asked, I worked with RBS in BishopsGate on an OffShoring programme and was dealing with Indian workforce and I would like to point out that some very basic professionalism was found lacking, not replying to e-mails, not attending calls when you have been invited to and not even caring to decline. How are you planning to increase the effectiveness of your workforce in a scenario where India is fiercely being challenged in South-East asian markets as BPO leader, where pricing is still the driver on BPO decisions what other differentials you are offering to the world as not just a leader of your own organisation but also as an industry insider.
Meera Sanyal answers, Thanks for the feedback Samar - perhaps you can send me a mail with your specific feedback which will allow me to investigate and revert. This is something we take very seriously and your feedback would be valuable
---
Srivatsan asked, What is your view regarding the new banking licenses. Should it be given only to companies who have a good track record in financial sector?
Meera Sanyal answers, Given that India is an under banked economy I am in favour of new banking licences. And yes it is important that companies with a good track record and credibility are given licences as this is a fiduciary business.
---
rahul asked, Good to know about the work done by the RBS Foundation, I had heard about your project in Mahbubnagar, AP on CNBC recently. Is this part of CSR norms of New Companies Bill?
Meera Sanyal answers, Thanks Rahul. The RBS Foundation in India has been active for many years and therefore this is not related to mandatory CSR requirements
---
prav asked, Do you think India can ever catch up with China in economic or infrastructure terms especially with the system of unquestioned democracy in place here and what will take for India to go ahead?
Meera Sanyal answers, There is a lot of focus on India vs China. Our economic and political models are different and each will therefore follow their own path. The real focus should be on India AND China - we have strengths which are complementary -China has the "hardware" and India has the "software". There was a time when our two countries contributed >60% of the world's GDP. Maybe that day will come again !
---
shashi asked, How does the life feel back home after LS elections? Any lessons for corporate leaders/professionals wanting to join politics for national interest?
Meera Sanyal answers, I learnt a great deal during my campaign for the LS. In terms of lessons I would like to quote one of our great leaders Rajgopalachari (Rajaji)who urged every educated Indian to be political - that des not mean that we should be politicians, but take active interest and participate in the political process as citizens !
---
Guest asked, Hello Meera
Meera Sanyal answers, Thanks to all who participated for your many questions. Sorry that I could not address all given the shortage of time - but it was very good to chat with you :)Signing off now...
---