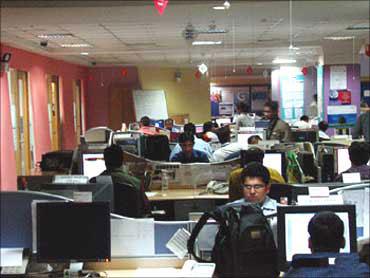 The IT department has sought Rs 1,200 crore for e-governance projects
The department of electronics and information technology has sought a 271 per cent increase in the planned Budget outlay for 2016-17, at Rs 9,531 crore (Rs 95.31 billion).
For 2015-16, the planned outlay for the department was Rs 2,568 crore (Rs 25.68 billion) and the revised estimate stood at Rs 2,700 crore (Rs 27 billion).
Among the major initiatives, the IT department has sought Rs 1,200 crore (Rs 12 billion) for e-governance projects for good governance and best practices.
E-governance measures aim at enhancing the quality of government services to citizens, speed up communication through the use of technology, reduce government expenditure, bring in more transparency, and make government more accessible and accountable.
Another Rs 850 crore (Rs 8.5 billion) has been planned for the National Knowledge Network and Rs 800 crore (Rs 8 billion) for the promotion of manufacturing in electronics and hardware, and the implementation of an electronic development fund.
To support the government's vision of National Supercomputing Mission, a part of Digital India and Make in India initiatives, the IT department has asked for Rs 338 crore from the finance ministry.
All these projects are part of Digital India, which aims to digitally connect people across the country.
Besides, the ministry has sought that income tax exemption under Section 10A of the Income Tax Act be restored for new STP units with annual turnover less than Rs 25 crore (Rs 250 million) or for a period of five years from the date of notification, whichever is earlier.
The rate of tax deducted at source for software product companies must be reduced to two per cent, the ministry said in a proposal to the finance ministry.
The image is used for representational purpose only. Photograph: Kind courtesy, Nasscom