Finance Minister Arun Jaitley on Monday listed 'nine pillars' including tax reforms, promoting ease of doing business and ensuring fiscal discipline, that will transform India.
Unveiling the Budget 2016-17, he said the pillars also include emphasis on governance reforms.
The other pillars, he added, include focus on agriculture and rural areas with a view to doubling farm income by 2022.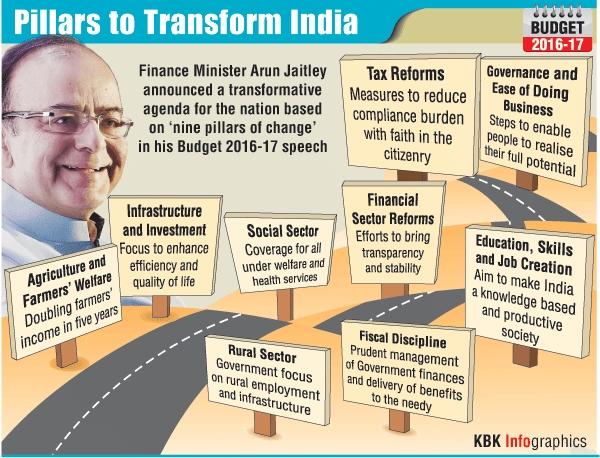 Besides, he said, government will lay greater emphasis on social sectors, education and skill building and job creation for building a knowledge based and productive economy.
The government, Jaitley said, will also focus on infrastructure investment, financial sector reforms, fiscal discipline and tax reforms to reduce compliance burden.
Image: The Union Minister for Finance, Corporate Affairs and Information & Broadcasting, Arun Jaitley, Minister of State for Finance, Jayant Sinha along with the senior officials presented the General Budget to the President, Pranab Mukherjee, at Rashtrapati Bhavan, in New Delhi on February 29, 2016. Photograph: Kind courtesy, Press Information Bureau