To reduce the burden of loan repayment on farmers, a provision of Rs 15,000 crore has been made in the budgetary estimate of 2016-17 towards interest subvention.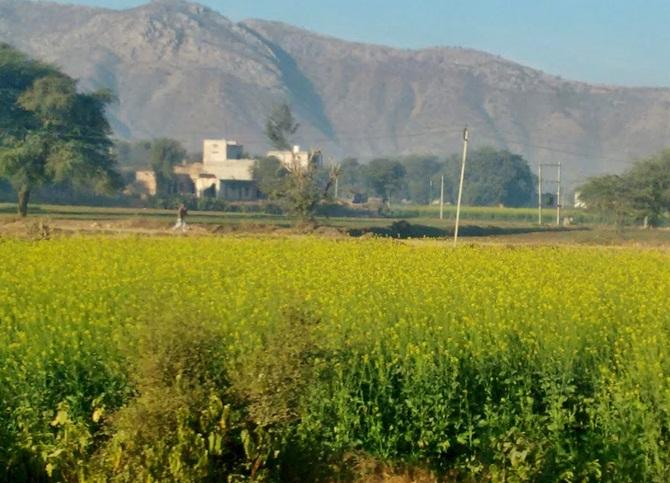 Amid growing farm distress due to two straight years of poor monsoon, the government on Monday announced a major thrust for agriculture sector in the Budget by almost doubling allocation to Rs 44,485 crore and raising credit target to a record Rs 9 lakh crore.
Of the Budget allocation for the 2016-17, Finance Minister Arun Jaitley has provided Rs 15,000 crore for interest subvention on farm credit, Rs 5,500 crore for crop insurance scheme, Rs 815 crore to promote dairy and allied sector and Rs 500 crore to boost pulses output.
To fund agri-initiatives, the government also imposed a Kisan Kalyan cess at 0.5 per cent on all taxable services from June.
As the government seeks to double farmers' income by 2022, Jaitley said soil health card will be provided to all 14 crore farmers by March 2017 and an unified e-agri market would be launched on April 14.
With the agriculture being a victim of vagaries of monsoon, the Finance Minister put a major emphasis on creating robust irrigation facilities and announced a plan to set up a a long-term irrigation fund with a corpus of Rs 20,000 crore.
"We are grateful to our farmers for being the backbone of the country's food security. We need to think beyond food security and give back to our farmers a sense of income security," Jaitley said in his Budget speech.
The Centre would reorient its intervention in farm and non-farm sectors to double farmers' income by 2022, he said.
Asserting that a special focus has been given to ensure adequate and timely flow of credit to farmers, the minister said: "Against the target of Rs 8.5 lakh crore in 2015-16, the target of agricultural credit in 2016-17 will be all-time high of Rs 9 lakh crore."
To reduce the burden of loan repayment on farmers, he said a provision of Rs 15,000 crore has been made in the budgetary estimate of 2016-17 towards interest subvention.
The allocation for interest subvention is now part of the Agriculture Ministry. Earlier, it was reflected in the Finance Ministry allocation, an official said, adding that the total budget of the Agri Ministry has risen sharply for 2016-17.
Agriculture Minister Radha Mohan Singh said it is a progressive and pro-farmer budget as the allocation under various schemes has been increased substantially for 2016-17.
"It is such a good budget that even Opposition will find difficult to criticise it," he added.
Minister of State for Agriculture Sanjeev Balyan said higher allocation coupled with initiatives like crop insurance scheme and e-marketing would help reduce the farm distress.
The impact of setting up of irrigation facilities will go a long way in solving the problem of farmers on account of weather uncertainties.
He said these steps coupled with a good monsoon could help farm sector grow at 4 per cent next fiscal.
Eminent farm scientist and father of Green Revolution M S Swaminathan said: "Giving an income orientation to farming is probably the most significant announcement by the Finance Minister. On the whole, Budget 2016 has tried to be as pro-farmer as possible."
India faced drought for two consecutive years due to poor monsoon, resulting in lower foodgrains production and higher prices of pulses. Some cases of farmer suicides were reported in states like Maharashtra and Andhra Pradesh
The Union Budget has tried to be "pro-farmer as possible" and seeds have been sown for agricultural transformation, noted agriculture scientist M S Swaminathan said.
"The Budget has tried to be as pro-farmer as possible subject to the limitation of resources. Seeds have been sown for agricultural transformation and for attracting and retaining youth in farming," he said in a statement.
Pointing to the economic survey which had said that the contribution of agriculture and allied sectors were "declining", he said "it is in this context the emphasis on income becomes urgent".
For achieving income enhancement in agriculture sector there needed five several steps - higher productivity of small firms, knowledge, skill and land ownership empowerment of women farmers, substitution of low value crops with high value ones like fruits, vegetables.
There has to be promotion of biomass utilisation so that every part of the plant is utilised for preparing value added products through initiatives. The procurement price should be based on the National Commission on Farmers proposal, he said.
Stating that 2016 has been declared as International Year of Pulses, Swaminathan said, India would be importing nearly 10 million tonnes of pulses to bridge the gap between demand and supply.
"It is therefore appropriate that the Finance Minister has provided Rs 500 crore for a special pulses mission," he said.
The 0.5 per cent Krishi Kalyan Cess on taxable services will be utilised for farmer's welfare is appropriate since the Finance Minister emphasised that agriculture and farmers' welfare be first among the nine pillars of the budget, he said.
Agri-economist and former CACP chief Ashok Gulati said, "Overall, there is some concern shown to the agriculture sector. I rate 6 on a scale of 10. I don't know how far the measures will address prevailing farm distress in India."
The impact of measures announced for agri-sector will take 2-3 years time, he said, adding that however higher allocation for crop insurance, irrigation and rural roads is a step in the direct direction.
The government has allocated Rs 2,340 crore funds for 2016-17 to the Agriculture Ministry to implement part of this scheme, which is higher than Rs 1,550 crore given for this year. PMSKY is being implemented by multiple ministries.
Stating that 28.5 lakh hectare will be brought under irrigation under PMKSY, Jaitley said a dedicated long-term irrigation fund would be created in NABARD with a corpus of Rs 20,000 crore to build irrigation facilities.
"Implementation of 89 irrigation projects under Accelerated Irrigation Benefits Programme (AIBP), which have been languishing, will be fast-tracked," he said, adding that this would help to irrigate 80.6 lakh hectare.
These 89 projects required Rs 17,000 crore next year and Rs 86,500 crore next five years. The government will complete at least 23 of these projects before March 31, 2017.
At present, only 46 per cent of total 141 million hectare of net cultivated area is under irrigation.
To boost farm growth, Jaitley said, "We need to addresss the issues of optimal utilisation of water resources, create new infrastructure for irrigation, conserve soil fertility with balanced use of fertilisers and provide value addition and connectivity from farm to markets."
Simultaneously, a major programme for sustainable management of ground water resource has been prepared with an estimated cost of Rs 60,000 crore and proposed multi-lateral funding, he added.
He said at least 5 lakh farm ponds, dug wells in rainfed areas and 10 lakh compost production of organic manure would be created using funds under MGNERGA.
To ensure the benefit of MSP reaches farmers across India, Jaitley said the government would take "three specific initiatives" in 2016-17 which include full decentralisation of procurement operation in all states, setting up of online procurement system and effective pulses purchasing system.
Noting that farmers are also engaged in other allied activities to supplement their income, Jaitley said, "To make dairy more remunerative to farmers, four new projects will be taken up" with an outlay of Rs 815 crore in next few years.
New projects include: an animal wellness programme called 'Pashudhan Sanjivani' with a provision of Animal Health Cards, an Advanced breeding technology; creation of e-market portal for connecting breeders and farmers called 'E-Pashudhan Haat', and a National Genomic Centre for indigenous breeds.
The overall Budget for the Department of Dairy, Fisheries and Animal Husbandry has been increased to over Rs 1,879 crore for 2016-17 from Rs 1,561 crore this fiscal.
To issue soil health cards to all 14 crore farmers by March 2017, Jaitley said the scheme is being implemented with greater vigour and a provision of Rs 368 crore has been made for 2016-17. Already, 79 lakh cards have been issued so far.
Besides, the government will provide soil and seed testing facilities at 2,000 model retail outlets of fertiliser firms in next three years.
"Fertiliser companies will also pro-market city compost which increases the efficacy of chemical fertiliser. Our policy of conversion of city waste into compost has been approved by the government," he added.
Jaitley said Rs 412 crore has been allocated for promoting organic farming to increase yield in rainfed areas as well as 5 lakh acres would be brought under organic farming in next 3 years under the Paramparagath Krishi Vikas Yojana.
That apart, the government will promote value added organic products under the scheme called Organic Value Chain Development in the North East region.
To improve the working of agri-extension services offered through 674 Krishi Vighyan Kendras (KVKs), the Minister said that a national level competition will be held with total prize amount of Rs 50 lakh to improve their efficiency.
Asserting that access to market is a critical to farmers, Jaitley said that the government is implementing an unified agricultural market, which envisages setting up of a common e-platform in selective 585 wholesale markets.
Unified agri e-platform will be dedicated to the nation on the birthday of B R Ambedkar on April 14 this year, he added.
He said that amendment to the APMC Act of the state is prerequisite to join the e-platform. Already, 12 states have amended their APMC Act and more states are expected to join in the coming years.
Jaitley also mentioned that there has been substantial rise in yield of honey and 90 per cent of domestic output is exported.
"There has been a visible rise in the yield of honey, from an average of 18 to 20 kg per box per annum in the year 2013-14 to 25 kg per box per annum by 2015-16," he said.
The total honey production has also increased from 76,150 tonnes in 2014-15 to 86,500 metric tonnes. Out of which 90 per cent honey is now exported, the Minister added.