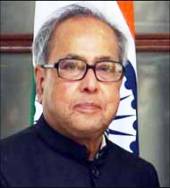 Vying for his attention like every other Indian does around Budget time, Finance Minister Pranab Mukherjee's daughter Sharmistha has written an open letter asking him to exempt artistes like herself from income tax and instead tax up to 95 per cent of the income of eve-teasers.
"At home, whenever I try to share my precious views with you on the forthcoming Budget, I am silenced by your steely glance (hence the open letter). . . I hope you will seriously consider my suggestions regarding certain tax incentives as well as levying new taxes," wrote Sharmistha Mukherjee, a well-known danseuse.
Her letter, mostly in jest, also highlights the problems that women face in the country, particularly in the national capital.
Among the new taxes she wished be slapped were: "Ninety to 95 per cent income tax levied on. . . homo-sapiens found on the roads of Delhi and NCR whose sole purpose in life is to push women-driven vehicles off the road.
"The same could be applied to all road-side Romeos and eveteasers across the country." When contacted, Sharmistha confirmed writing the letter.
An exponent of Kathak, she asked her father to exempt performing artistes from the income from their performances.
"This would keep us more focused on our art and not waste time raking our (mostly) (sic) financially-challenged brains trying to understand various tax-saving schemes," she wrote, but asked Bollywood stars to be exempt from this exemption.
Also, in her wishlist was a 'very special tax' on her friends who refuse to partake of dinner cooked by her; "A special Commonwealth tax levied on those found littering the streets, imitating dogs whenever these see a wall and jay walking."
The letter came on the eve of Budget, and it was not clear if her father had taken note of the suggestions.
Image: Pranab Mukherjee