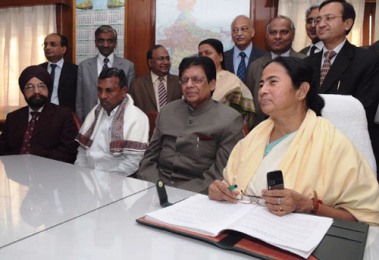 Hindi couplets, shrill notes, political correctness (a coach factory at Rae Bareli, drinking water plant at Amethi) and a bagful of projects for West Bengal (over half a dozen factories and workshops, two museums, one cultural centre and much more) -- nothing that Railway Minister Mamata Banerjee said on Wednesday while presenting the Railway Budget 2010-11 in the Lok Sabha could hide the rot in finances.
Little wonder, she made an impassioned plea to the private sector for investments. "The time has come for the business community to come and join hands to build partnerships with the Railways," she said.
But that didn't keep Banerjee from being populist. She ignored the Planning Commission's advice to raise passenger fares and link freight rates to fuel prices and left both the rates unchanged. In fact, she proposed a cut in service charge for e-tickets.
There were no proposals for additional resource mobilisation in her budget. But she has been helped by an all-time high annual Plan allocation of Rs 41,426 crore (Rs 414.26 billion) for 2010-11, up Rs 1,142 crore (Rs 11.42 billion) from 2009-10.
Net revenue after dividend fell to Rs 951 crore (Rs 9.51 billion) in 2009-10, almost two-thirds below the Rs 2,642 crore (Rs 26.42 billion) budgeted by Banerjee in her July 2009 budget estimates and four-fifths below the Rs 4,456 crore (Rs 44.56 billion) achieved by her predecessor, Lalu Prasad, in 2008-09.
The meagre money has been entirely assigned to the development fund, which has left nothing for the capital fund and the railway safety fund.
This surplus could have been even smaller had she not cut the money earmarked for the depreciation reserve fund from Rs 5,325 crore (Rs 53.25 billion) in the budget estimates to Rs 4,500 crore (Rs 45 billion) in the revised estimates for the year.
The operating ratio (working expenses as a portion of traffic receipts) for 2009-10 is 94.7 per cent, worse than 92.5 per cent projected by Banerjee in July.
It was 90.5 per cent in 2008-09 and 75.9 per cent in 2007-08, when Prasad was in charge. Banerjee has projected the ratio at 92.3 per cent for 2010-11.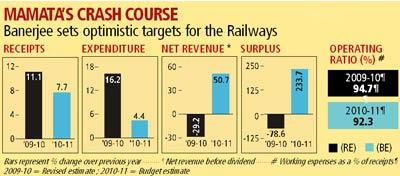 There is a time bomb ticking here. Staff wages & allowances and appropriation to the pension fund accounted for 47 per cent of the total expenditure in 2008-09, up from 36 per cent the year before.
Allocations to the development and capital funds have, on the other hand, tumbled to 6 per cent from 18 per cent during the period.
Dressed in a white cotton sari and with a cream shawl over her shoulders, Banerjee was conservative in her projections for 2010-11.
Passenger revenue, she said, will rise 8.6 per cent and freight revenue 6.4 per cent in the coming financial year. Both the revenues increased almost 10 per cent in 2009-10 over the previous year.

As growth in gross domestic product in 2010-11 is expected to improve to 8 per cent, Banerjee's calculations appear cautious. Her freight loading target for 2010-11 is 944 million tonnes, an increase of 54 million tonnes (6 per cent) over the previous year; passenger traffic is likely to grow 5.3 per cent.
With the Railways strapped for cash, Banerjee has decided to bank on public-private partnerships to keep the juggernaut moving.
The Railways, she said, will set up a task force to clear all investment proposals within 100 days. Banerjee had a long list for such projects: multi-level parking complexes, six drinking water bottling plants, a rail axle factory, four wagon factories, and a refrigerated container factory.
More could follow in areas like new railway lines, upgrade of stations, auto hubs, rolling stock, high-speed corridors and logistics parks. A separate structure will be created in the Railways for public-private partnerships.
Her best, of course, was reserved for her home state, West Bengal. This includes, apart from other largesse, a water bottling plant at Farrakha, axle factory in New Jalpaiguri, wagon factories at Bardhaman and Haldia, and a refrigerated container unit at Budge Budge.
The Railways, she said, could also set up a coach factory at Singur, where Tata Motors planned first to produce the Nano, provided 400 acres are used to resettle farmers.
Heckled by the Opposition, Banerjee, who fancies her chances as the next West Bengal chief minister after over three decades of Communist rule, was more often than not able to shout them down.
Banerjee was ridiculed at a recent meeting of the Union Cabinet by Finance Minister Pranab Mukherjee for favouring West Bengal with projects even though her finances are not in order.
On Wednesday, the firebrand Trinamool Congress leader made peace overtures by proposing a coach factory at Rae Bareli in Uttar Pradesh, the constituency of United Progressive Alliance chairperson Sonia Gandhi, and a bottling plant for drinking water at Amethi, the constituency of Congress general secretary and heir apparent Rahul Gandhi. This, she must be hoping, will calm some frayed nerves at the Centre.
Image: Mamata Banerjee. | Photograph: PIB.