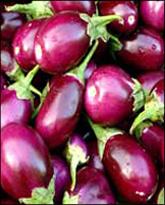 Amid a raging debate over release of Bt brinjal for commercial use, Science and Technology Minister Prithviraj Chavan on Tuesday said genetically-tweaked variety of the vegetable was 'safe for all'.
"We stand by the trials done by the regulatory bodies. It is safe for all," Chavan said replying to a volley of questions over the issue at the social editors' conference in New Delhi.
He made it clear that the country's biotech regulator Genetic Engineering Approval Committee (GEAC) had cleared Bt brinjal for regular agriculture purposes in October last year.
Bt Brinjal is a genetically modified brinjal developed by Maharashtra Hybrid Seeds. It has been created by inserting gene from the soil bacterium bacillus thuringiensis into brinjal, which is said to give the plant resistance against insect pests.
Environment Minister Jairam Ramesh has begun nationwide consultations prior to introduction of the brinjal variety.
Some states had refused to accept the GEAC ruling. "We all know one thing that the GEAC has cleared Bt brinjal," Chavan said.
Maharaj Kishen Bhan, secretary, department of biotechnology, said eminent scientists had examined the science behind Bt brinjal and had concluded that it was "absolutely safe for science and environment".
Bhan noted that regulation of genetically modified products was done by Review Committee on Genetic Manipulation (RCGM) and GEAC.
"RCGM has 30 members. Thirty best scientists who understand science and regulation. They have cleared it and said that the data they have is sufficient to allay safety and environment concerns," he said.
"As scientists, our position is very clear that we concur with the decision of RCGM and GEAC about safety and health issues," he said.
Asked about the opposition to Bt brinjal, Bhan merely said, "there will always be some persons with a different view about an issue. They will always find something."
Council of Scientific and Industrial Research director general Samir Brahmachari said farmers will benefit from the use of genetically modified brinjal.
He said every year brinjal crop worth over Rs 1,000 crore (Rs 10 billion) is lost to insect attacks.
"I don't know whether people will like the taste or not but it is safe for all humans. Adopting this technology will help thousands of farmers, Brahmachari said.