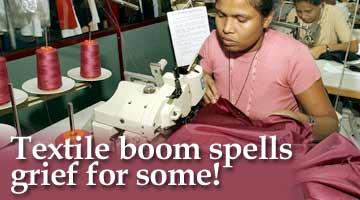 Part I -- Boom time for Indian textiles!
Part II -- New textiles era: How will India cope?
Part III -- Tirupur: India's 'Textile Valley'!
Quota-based curbs for textile exports to the United States and European nations were lifted on January 1, 2005.
With the restrictions off and globalisation in full swing, the Indian industry is now exposed to global competition. Indian manufacturers and exporters now have to compete with the global players and also face emerging tariff and non-tariff barriers.
So what will the manufacturers and exporters have to do? With its speed of operation, skill, quality and low-cost labour, the industry is now gearing up for the quota-free regime.
rediff.com brings to you the fourth part of this special series on what the lifting of quota restrictions means to the Indian textile industry.
---
It is celebration time in India's textiles hot-spots like Tirupur. Removal of the quantitative restrictions on textiles exports has thrown open huge opportunities for the large number of garment manufacturers and exporters in and around the country.
Faces of India's garment exporters might be glowing these days, but there are a large number of people who are gloomy.
The gloomy faces belong to those who have been thrown out of work. "A number of workers have lost their jobs because of this new quota-free system. They do not understand why this has happened to them; but it is misery for many of them," says Marxist trade union leader K Sadanandan in Tirupur.
Who all have lost jobs?
Those who have been laid off include hundreds of 'quota brokers' who were involved in hoarding of quotas; the documentation staff who worked in export houses; and a large number of Export Promotion Council staffers who did the actual distribution of quotas.
One of them is Mani Selvam, a 'quota broker' at Tirupur.
When he went to an export firm in December-end, he saw a notification pasted on the notice board of the company. It read: 'From January 1, there shall be no requirement of Quota Certificate/ Visa/ Export Certificates from the Apparel Export Promotion Council (AEPC), the Cotton Textile Export Promotion Council (Texprocil) and the Synthetic and Rayon Textile Export Promotion Council (SRTEPC).'
The notice meant the end of Selvam's decades long job forever. "I have no job now; I know of no other job that I can do either. Now I am trying to find a way to carve out a living," says Selvam.
Selvam says in Tirupur itself there are hundreds of quota brokers and their sub-agents who worked for various export houses. Some of them have approached trade union leaders pleading to take up their cause with export firms and the government.
"We also have families to support. The export companies are rejoicing but we are suffering," Selvan added.
It is not just the quota brokers, but a large number of middlemen in towns like Tirupur and Coimbatore who were involved as intermediaries between exporters with excess quotas and those needing the quotas to execute an order, are unemployed these days.
When the more than three-decade-old quota regime was in place, exporters needed quotas that entitled them to ship particular quantities of consignments to countries such as the United States, the European Union countries and Canada.
Of the total quotas available, nearly 80 per cent were transferable. Quota brokers would buy out the transferable ones from exporters who had excess quotas and sell them at a premium.
"Many of them have been doing brisk business under the quota system. They often hoarded quotas and made money out of premiums from exporters who were in need of quotas. Now no one needs quotas, and thus they are jobless," points out a small time textile manufacturer in Coimbatore.
He says the mode of operation of the quota brokers was time-tested and followed market mechanics.
The quota-free textiles regime has also rendered a large number of the documentation staff who worked with various export houses jobless. They were employed to prepare quota applications, furnish bank guarantees and earnest money documents. Some of them also appeared on behalf of the export houses at the appellate council meetings.
A major export house in Tirupur sacked 25 employees from January 1 because the company said they did not have any work under the quota-free exporting system.
"We have cut down the employees because they did not have any work," a manager at the export firm said.
Officials at the Apparel Export Promotion Council and the Textile Export Promotion Council conceded that good times for the textiles industry have brought in bad times for many employees.
"This happens when radical change like this happens in an industry. But we are trying to reorganise the employees by re-deploying them to other departments. We have also asked the export houses to re-deploy the excess employees in different sections," an official at the Apparel Export Promotion Council said.
Interestingly, the Council itself has a large number of employees who have no work after the textiles restrictions were removed. The official said the Council has been offering voluntary retirement scheme to employees because after the quota abolition many of them have no work.