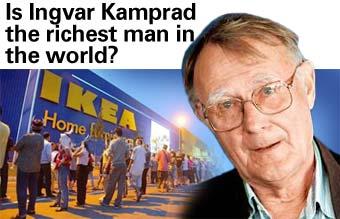 On Monday, media reports said Microsoft Chairman Bill Gates has been dethroned as the world's richest man by Ingvar Kamprad, founder of Swedish furniture giant IKEA.
An upcoming issue of Swedish business weekly Veckans Affarer estimates Kamprad's wealth at 400 billion kronor ($53 billion). Gates' worth is estimated at $40.7 billion. Veckans Affarer said it is incorrect to say that Kamprad owns the entire company, along with all its stores. A USA Today report quoted a company spokesperson as saying that 'Ingvar Kamprad does not own IKEA as he has donated the concern to the Dutch Stichting INGKA Foundation in 1982.'
rediff.com decided to find out more about Mr Kamrad. A ready-reckoner to the Swede who may or may not be the planet's wealthiest individual.
Who is Ingvar Kamprad and why is he so rich?
Kamprad was born in 1926 in Smaland province in southern Sweden, where the life was frugal and the soil was poor. Today, he is known as the guy who founded the IKEA furniture chain and who may have dislodged Bill Gates from his perch as the richest man in the world.
And what is IKEA?
IKEA is one the world's largest furniture and home furnishing chains, with outlets in 30 countries. IKEA is an acronym for the initials of its founder and of Elmtaryd and Agunnaryd, the farm and village, respectively, which is where Kamprad grew up.
Could IKEA's furniture business be worth more than Microsoft?
The company's turnover for 2003 touched 12,370 million euros (about $148 billion, excluding sales tax). Swedish Television said recently Kamprad is worth about $51.6 billion. Veckans Affarer, as we said above, believes he is worth a little more, about $53 billion. Kamprad's rise is attributed to the weakening of the dollar against the Swedish kronor. So don't be surprised if a strong dollar pushes Gates back up to the numero uno position.
So how come so few people have heard of Kamprad?
The man is a study in frugality. He travels economy, rides public transportation to avoid publicity, and maintains a low profile.
How big is IKEA?
190 stores in 30 countries, 85,000 employees. And the revenues given above.
What makes IKEA special?
The founding principle behind IKEA is to provide functional, well-designed furniture at prices that are accessible to as many people as possible. In short, practical, easy to use, cheap furniture. It's the old story of volumes and lower prices making good.
How do they keep prices so low?
Simple. Reverse product creation. At IKEA, the designers first come up with a price for a product. Then they figure out the most efficient manufacturing process for the product. And last, they conceptualise a design that fits the price and the process, instead of the other way round, which tends to tie the price to product. In other words, at IKEA, the price makes the product, not the other way around.
Microsoft is a recent phenomenon. How old is IKEA?
The company was founded on July 28, 1943. In 1951, the first IKEA catalogue was published and distributed free (that continues to this day). But the first furniture showroom was opened only in 1953 in Almhult, Sweden.
Where does IKEA source its furniture from?
Actually, all of the company's designs are inhouse. It started designing its furniture in 1955 and the first IKEA 'store' opened in the same city in 1958.
From Sweden to 30 countries is a pretty big deal.
Yes, but it took time. The first IKEA store outside Sweden opened in Oslo, Norway, in 1963; outside Scandinavia, in Spreitenbach, Switzerland 10 years later; the latest opened in Thessaloniki, Greece, in 2001. But four years before that, at the height of the dotcom boom, they went where they didn't need a store -- online.
What's so special about IKEA products?
For one, they save space. Two, they are cheap -- largely due to the fact that they do away with unnecessary detail. For example, as they say, will an expensive finish on the back of a shelf or under a table-top improve the function? You get the idea.
Also, most IKEA products are DIY types -- you buy it, you take it home, you put it together. Saves on having someone cart a dresser home. Also saves on having to buy a truck to lug it home!
Design: Dominic Xavier