Within hours of going on indefinite strike, the employee unions of BSNL on Tuesday called off the protest after the government assured that the issue of disinvestment in the telecom PSU will be referred to a Group of Ministers.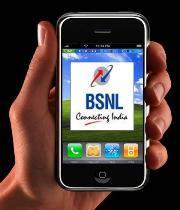 "We have assured them (unions) that the issue of disinvestment will be referred to a GoM and they would be consulted before taking other decisions with regard to BSNL," Telecom Minister A Raja said.
A high level panel, headed by Sam Pitroda and banker Deepak Parekh and Telecom Secretary P J Thomas as members, had recommended 30 per cent disinvestment in BSNL and voluntary retirement to over one lakh staff as part of steps to improve financial health of the PSU.
The apex body of BSNL unions claimed that over three lakh of its members had joined the strike action this morning. The joint forum of unions has both executives and non-executives as members.
Within hours, BSNL Chairman Kuldeep Goyal met the Telecom Minister and sought his intervention. "As the management has agreed to look into our major demands, we have decided to call-off the indefinite strike," convener of the Joint Action Committee of BSNL Associations and Unions VAN Namboodiri said.
The Sam Pitroda panel was set up by Prime Minister Manmohan Singh to suggest ways to improve BSNL's financial health. BSNL saw profits plummet to Rs 1.78 billin (Rs 178 crore) in 2009-2010 (up to December 2009) from over Rs 5.75 billion (Rs 575 crore) in 2008-09 as the PSU is rapidly losing market share to new entrants.
The PSU has 91 million users, both mobile and landline. BSNL offers services across India, except Delhi and Mumbai. Besides the scrapping of the divestment plan, the unions were also demanding absorption of 1,500 Indian Telecom Services officers, who have been continuing on deputation for the last 10 years.