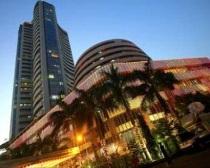 Where are the equity markets in India headed for 2012? Ask top foreign investors and their tone seems negative.
UBS Securities, broking arm of the largest Swiss bank, and Australia's Macquarie Equities Research are the most bearish.
They have predicted a 20 per cent fall in the Bombay Stock Exchange benchmark index from its current level.
The Sensex last traded at 16,800 on Monday.
While UBS believes Indian markets are in the midst of a cyclical slowdown and a large outflow of foreign money could be a catalyst, Macquaire does not expect interest rates to ease for at least the next two to three quarters.
This has led them to lower India's growth targets.
Then there is Japanese major Nomura, which does not see any upswing in the short term "due to global macro concerns and volatile risk sentiment".
The brokerage, however, has avoided putting a target on the Sensex.
All the three brokerages, however, say the downside should be used as buying opportunity.
Bank of America Merrill Lynch, the US financial major, is expecting a 14 per cent fall in the Sensex in the next six months.
"We continue to expect a tough market and expect a correction of the Sensex to 14,500, as growth concerns take centre-stage,"
BofaML has sad in its report.
It adds that peaking inflation and a consequent pause in RBI rates are a positive, which will likely help the traditional December rally.
Citi, meanwhile, has set 18,400-target for the Sensex by December 2012. Based on current levels, this implies a little under 10 per cent gain for the benchmark 30-share index.
Citi's 2012 target is based on a one-year forward price to earnings multiple of 14 times,also a 10 per cent discount to the long-term average as India has fundamentally de-rated.
Citi, which has pegged the Nifty at 5,520 for next year-end, expects "positive market movements to be more upfront than back-ended (cyclical gains with structural caps from slower growth and forex vulnerability), and have tweaked (its) model portfolio to continue to position relatively aggressively."
Interestingly, UBS has set a March 2013 target for the Nifty at 6,500, based on a 12-month forward PE of 15 times and a base case FY14E earnings per share of Rs 430.
Currently, the Nifty is trading at about 12.5 times forward PE, below the 10-year average.