Indians who travel to Britain for sight-seeing, shopping or on business purpose, please note: from tomorrow, the 20-pound note featuring the image of composer Edward Elgar will be withdrawn from circulation.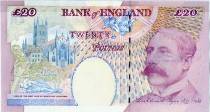 Every year, thousands of Indian tourists, students and business people travel to Britain. New foreign exchange regulations in India allow a certain amount to be carried as cash, which is dispensed by banks and licensed foreign exchange dealers.
The 20-pound note featuring Elgar has been replaced by a note of the same denomination but features 18th century economist Adam Smith.
The Bank of England said for several months after the end of June most banks, building societies and post offices will accept the Elgar 20-pound notes for deposit to customer accounts and for other customer transactions, but this will be at the discretion of the individual institution.
However, the apex bank said it will always exchange its old notes. Indians are among the highest shoppers in London's West End, and a consortium of retailers recently launched a campaign with the Home Office to relax visa norms for Indian and Chinese shoppers before the Olympics.
The withdrawal of Elgar's 20-pound note has been criticised as a 'national disgrace' by the music industry. Calling it a sad day, Jeremy Dibble, professor in the Department of Music at Durham University, said the decision showed how little was thought of cultural giants.
"The withdrawal of the Sir Edward Elgar 20 note is a national disgrace as the arts will no longer be visible on our notes. Edward Elgar, is an iconic figure and a fitting symbol of artistic inspiration in England," Dibble said.
"Dropping Elgar tells us much about the way in which the arts is now viewed in England. Bank notes should applaud the greatest aspects of England and English culture," he added. The latest change to the 20-pound note follows the phasing out of the William Shakespeare version in 1993.
"The removal of writing and music in the shape of Shakespeare and Elgar on Bank of England notes makes our currency much less colourful. Science and economics are important but so too are the arts. Why is it that the public are never consulted on these matters that are intrinsic to our culture?," Dibble asked.
Depicted on the 5-pound note is 19th century social reformer Elizabeth Fry, naturalist Charles Darwin appears on the 10-pound note and Sir Charles Houblon, the first Bank of England governor, features on the 50-pound note.\