Prime Minister Narendra Modi will be attending the two-day summit of five-nation BRICS forum in Brazil next week when it is likely to give a concrete shape to establishment of a Development Bank and pitch for reforms of the UN Security Council.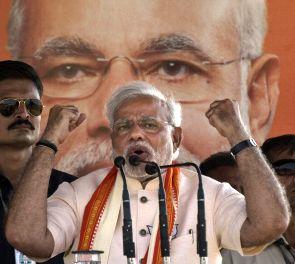 Modi's first participation in a multilateral meeting after taking over as Prime Minister will also give him an opportunity to meet with world leaders including Chinese President Xi Jinping and Russian President Vladimir Putin apart from leaders of South America.
Summit host and Brazilian President Dilma Rousseff has invited leaders of South American nations including those from Argentina, Bolivia, Ecuador, Paraguay, Uruguay, Venezuala and Surinam for the summit following on the footsteps of South Africa which invited African nations to the last year's Summit in Durban.
Briefing reporters on the upcoming 6th Summit of Brazil, Russia, India, China and South Africa, Sujata Mehta, Secretary (Economic Relations) in the External Affairs Ministry said all matters related to the establishment of the bank were still under negotiation and a decision may be taken in Fortaleza, the north eastern coastal city of Brazil, on July 15. A Fortaleza declaration containing the summit outcomes is on the cards.
On July 16, the BRICS leaders will meet in capital Brasilia where the South American heads of government and state will join them for discussions.
The Durban summit had taken a decision to establish the BRICS bank for mobilising resources for infrastructure and sustainable development projects in the five countries and other emerging economies and developing nations. A Contingency Reserve Fund of $100 billion was decided in that summit.
One of the objectives of the BRICS bank, an establishment outside the framework of Brettonwoods institutions, would be to provide export credit guarantee for member nations and some developing countries, Mehta said in reply to questions.
Mehta, who will be the prime minister's sherpa, said in reply to a question that liquidity crunch of member nations will also be an issue under discussion on the BRICS bank.
"We will be hoping for an endorsement of the need for UN Security Council reforms. Another important issue will be the approach towards the multilateral negotiations in the UN post-2015 agenda on sustainable development and millennium goals."
The BRICS has two permanent members of the UNSC (China and Russia) and the other three are aspirants.
Matters relating to WTO are also likely to be discussed in the summit.
Dinkar Khullar, Secretary (West) in the MEA, said the prime minister will have a wonderful opportunity for interaction with the South American leaders on the sidelines of the summit.
He said Nodi has shown great interest in having a dialogue with all the leaders of South America. He has also said he was more concerned about substance than on ceremonials, Khullar said in reply to question.
Discussions on the summit declaration will begin from tomorrow among officials to be followed by ministerial meetings on July 14.
Replying to a question whether Modi will meet Jinping on the sidelines of the summit, MEA spokesperson Syed Akbaruddin said it is normal for the prime minister to meet other leaders.
"We are working on the schedule. You can rest assured that there will be bilateral meetings with other BRICS leaders in Brazil," he said.
Please click here for the Complete Coverage of Budget 2014 -15