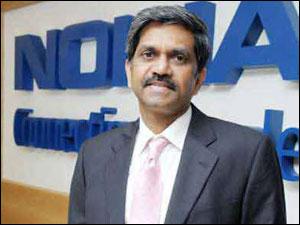 D Shivakumar is a strict vegetarian, but that does not stop us from talking about fish.
As we settle into a table at Varq, the Taj hotel's contemporary Indian food restaurant, I explain my worries about being served basa imported from Vietnam and said to contain carcinogenic growth hormones.

He takes a gentle dig at my Bengali obsession with fish by telling me a story.

On one of his frequent trips to the north-east, he ticked off a sales executive for carrying hilsa from Bangladesh.

But the executive promptly explained there was nothing to worry about, even the pilot was carrying some!

That is when he understood that for connoisseurs of fish, quality is equated with freshness.

For the meal, Shiva, as he is popularly known, makes a quick choice: a set vegetarian menu offering green vegetables, palak, paneer and dal.

It's boring stuff for a self-respecting non-vegetarian, but I am keen to take the conversation beyond pisciculture, so I take the easy way out and order a set non-vegetarian meal.

Shiva has been in PepsiCo India's hot seat for a few months and he's taken charge at a time when his predecessor Manu Anand abruptly quit.

His new job is a world away from his 10-year stint selling mobile phones for Nokia and consumer electronics for Philips, but hardly alien to him since he worked with Hindustan Unilever before that.

How had the market for fast-moving consumer goods changed in the interim?

Now, Shiva loves teaching in management schools -- he honed his skills at the Indian Institute of Management, Calcutta -- and in the time-honoured tradition of the B-school professor he has coined a phrase to explain his new distribution mantra: go 'hyper local'.

A fancy term for localising global brands, I guess but Shiva persists by offering a couple of examples as a teacher would to a student.

So he talks about Who Wants to be a Millionaire? that was reinvented and Indianised as Kaun Banega Crorepati in regional languages and gained a huge number of television rating points.

Or, the regional newspaper industry, which offers some national news but concentrates on localised content based on what readers are looking for. Just in case I have not fully understood, he adds the clincher: 90 per cent of Google searches around the world in every market are for local information.

I am served diet Pepsi, and Shiva opts for Aquafina, Pepsi's bottled water brand, even as he reels off the changes in the last decade in the FMCG market. "Today, we have more than 15 million retail outlets.

The best companies cover about seven million. Modern trade has become big.

Retailers are younger and smarter, e-retailing is common and there are 550 TV channels instead of just 10," he says.

A dish of assorted vegetables makes its way to the table and so does our much-debated basa fish (Varq staff assured me it is supplied fresh everyday).

Shiva is curious to know how I am sure the fish meets my exacting standards.

I tell him it takes years of experience. He takes a small portion of vegetables and we continue our discussion on the FMCG market. Unlike a decade ago the brand is not everything, he says.

Two elements are becoming equally important: the retailer's brand and the consumer conversation.

But that does not, of course, mean no one bothers about a brand. It is still the most important, as it denotes status.

After all, in which developed country do you have brands for wire or bulbs and even simple chappals, he argues?

All this might sound clichéd for those with little patience for management principles.

But Shiva loves management gurus and has drawn inspiration from many of the masters of the game.

He has a twinkle in his eye when he tells me the story that as a trainee he used to exchange letters with Peter Drucker and is proud that the guru had time to reply.

He announces that from the late 80s, he has written and collects articles of all major management gurus.

With a childlike enthusiasm he pulls out an article from 1995 written by Michael Porter from his briefcase that he treasures. But he also says he learnt the ropes of business during his stint with Unilever from amazing coaches such as R Gopalakrishnan, K K Dadiseth, Harish Manwani, to name a few.

Now don't think his interest is restricted to management gurus.

He says sports of all kinds fascinate him because it teaches him the importance of teamwork.

It also, he says, teaches that you can win against the same opposing team one day and lose another day, so that you have to hone your skills every time. Those, of course, are management lessons.

But he also used to play cricket and tennis as well as golf, but now has time only to run.

But that does not stop him from being a fan of Manchester United and the Ferrari Formula 1 team.

And although he is not a movie buff he has a close six-year relationship with Shah Rukh Khan, who was brand ambassador for Nokia and whose Indian Premier League team, the Kolkata Knight Riders, the company supports.

So will he use his management expertise to change PepsiCo?

Shiva is as guarded as ever when asked about specifics, a trait I recall from his Nokia days when he fought a bitter and sometimes losing battle with the aggressive onslaught of Samsung and Apple.

As I sample some of the vegetables from his meal (they are fresh and well-cooked), Shiva frugally helps himself to one roti and cautiously admits that he is a rank outsider. So he's going to tread softly.

"My first job is to earn the trust of the employees.

"People come and trash whatever has been done earlier, that is poor leadership," he says.

Understandably, Shiva is reluctant to talk about his plans for Pepsi India so we chat about the rural market, which remains a challenge for the beverage industry.

The Lever man in him talks when he talks about the aspiration-quality-price priorities of the urban consumer versus the price-aspiration-quality hierarchy of rural consumers.

And it's a myth, he says, as he scoops up the last of the dal with roti, that rural India is poor: half of India's rich live there. He does not believe in being a price warrior either: brands that have followed this strategy have all died in the last 30 years, he says.

It's time for dessert. Shiva opts for fruit.

I ask for a sugar-free option and am offered a delicious chocolate mousse. Naturally, I must ask him why Nokia became a technology laggard but his answer does not surprise me. Technology is all about innovation with speed.

The mobile market changed overnight from voice to content and to open operating systems (Nokia was proprietary).

So did Nokia fail to see the change? His answer is a masterful non-answer, no doubt an art all good managers learn: "We took a strategy and that delivered what the strategy was supposed to deliver".

But he is more forthcoming on the future of technology.

He says he is bullish on "gesture technology" and "wearable devices", which will fundamentally change the way we live our lives.

As the bill arrives, Shiva talks about the four major events of technology that have changed the world -- the Wright brothers who flew the first plane, the first trans-Atlantic flight, the invention of the Jumbo that could carry more passengers for long distances, and the Concorde.

He now sees the fifth one coming.

And that stars Richard Branson, owner of the Virgin Group, who is about to make space travel possible for the common man.

As we say goodbye, I come away with the distinct feeling that I have got to know more about Shiva, the B-school professor than D Shivakumar, chairman and CEO of PepsiCo India.

Or maybe the latter is still a work-in-progress.
Image: D Shivakumar; Photograph: Rediff Archives