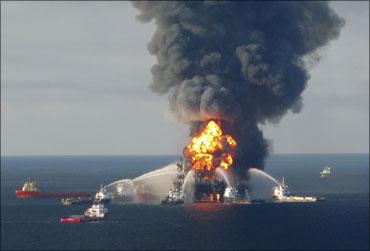 BP Plc's response to the devastating Mexican Gulf oil spill is growing more expensive by the day, with the British energy major revising its costs upward to a whopping $2.65 billion.
The embattled entity has revised the figure upwards for the third time in less than ten days. "The cost of response to date amounts to approximately $2.65 billion, including the cost of the spill response, containment, relief well drilling, grants to the Gulf states, claims paid and federal costs," BP said in a statement.
Last Friday, BP had projected oil spill-related expenses at $2.35 billion, higher than its earlier estimate of $2 billion. Claims against the company related to the spill, too are rising everyday.
Till date, BP has received over 80,000 claims and the company has so far made 41,000 payments amounting to more than $128 million. Going by reports, the expenses related to the Gulf of Mexico oil spill could even touch $50 billion.
The disaster has resulted in the leakage of thousands of barrels of oil into the ocean. The oil major said it has pressed into service more than 39,000 personnel, almost 5,000 vessels and some 110 aircraft to speed up efforts to contain the oil spill.
In comparison, BP had said last week that as many as 37,000 personnel, as well as 4,500 vessels and some 100 aircraft, are engaged in the response effort. In clear signs that costs are expected to climb, the company noted that it is too early to quantify other potential costs and liabilities associated with the incident.
Faced with intense pressure from the US administration, BP had announced a $20 billion fund to meet obligations arising out of the oil and gas spill. Moreover, the company is grappling with resistance from a partner with regard to sharing responsibility for the disaster. The spill happened in April following an explosion onboard the Deepwater Horizon rig in the Gulf of Mexico, which killed 11 people.