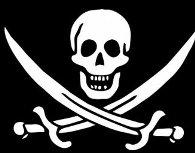 The Indian film industry joined hands with Hollywood on Wednesday to counter piracy.
Dan Glickman, chairman, Motion Pictures Association of America, launched an initiative in alliance with prominent Indian media companies such as Yash Raj Films, Vishesh Films, Reliance Big Entertainment, Moser Baer, UTV, Eros International and Studio 18 at the FICCI Frames 2010 conference in Mumbai.
The coalition would address all forms of piracy, physical and online. According to a US India Business Council-Ernst & Young 2008 report, the Indian film industry lost $959 million (Rs 4,360 crore) and 571,896 jobs due to piracy. KPMG had said 60 per cent of films in India are pirated.
Harish Dayani, CEO of Moser Baer Entertainment, said: "Around 700 million pirated DVDs are sold in India on an annual basis. This not only results in revenue losses for film producers, but also stands to affect theatre owners, who are increasingly recording declining footfalls, and satellite TV channels in the long run."
Said Siddharth Roy Kapur, CEO of UTV Motion Pictures: "Nearly every Indian title is camcorded and made available in pirate street markets, two to three days after the legitimate theatrical release. While the industry has come together to provide theatre security and anti-camcorder training, our effort will be futile without the government passing appropriate legislation to hold perpetrators liable for this form of copyright theft."
Producer Mukesh Bhatt of Vishesh Films added: "Online copyright theft in India is growing rapidly. Two separate reports last year placed India in the top 10 countries worldwide for P2P (people to people) infringements. There is a community of Internet users who view piracy as an activity without consequence and who engage in piracy with ease within both domestic and international sites, across a range of piracy methods."