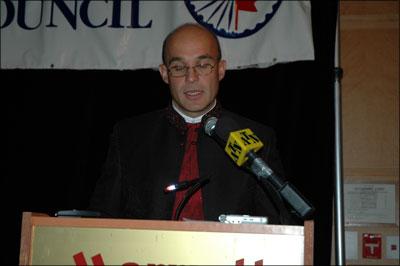 James Laurence Balsillie, founder and co-chief executive officer of Research in Motion, feels that in the next 20 years, India will reach the developed nation status with $20,000 per capita income in terms of purchasing power parity.
"I am impressed by the breathtaking transformation underway in India," he said, that has made India "the world's fourth-largest economy in purchasing-power terms, growing at 6 to 8 percent," Balsillie said. He was the keynote speaker at Canada-India Business Council Diwali dinner October 7 at Toronto's Marriott hotel.
India, he added, would "reach developed nation status [$20,000 per capita income in terms of purchasing power parity] in 2028."
Blackberry users in India are growing rapidly 'and we anticipate having millions of customers more before long,' Balsillie said.
He called the Blackberry 'an essential tool' for business that is 'profoundly empowering and democratic' as it allows 'millions of people in India to leapfrog legacy, technology and transit straight into the 21st century.'
Few countries, he said, 'are making that transition as dramatically as India.'
People the world over, he said, "respect India's incredibly rich heritage, [and] are deeply impressed by the pace of its current achievements. Indian scriptures, literature, and philosophy are read for their profound insights into human nature and social relations. Indian mathematics, from the concept of zero to the development of the decimal system, underlie modern science."
Balsillie also lauded the success of Indian businesses -- like Mittal Steel, Tata Motors, Infosys, the Mahindra Group, the Jindal Group, etc -- and "the growing impact in the world markets of Indian entrepreneurs."
He reeled off statistics and information about India, where "average literacy rates are rising, and the percentage of people living below the poverty line has been cut in half in one generation. All this progress is being made in. . .  the world's most populous democracy. . .  [that has] strong governance institutions, an engaged civil society, an irreverent press, a respected judiciary, vigorous Opposition parties and numerous ethnic groups and languages."
Indians, he said, are "playing increasingly prominent roles in Canada's economy and politics, including at the highest levels."
The Indian Diaspora, he said, "is a source of extraordinary benefit to Canada, in terms of talent, family and business contacts, and worldliness."
He called Indo-Canadians "crucial to Canada's openness to the world and to our success."
Balsillie is involved in establishing think tanks like the Centre for International Governance and the Balsillie School of International Affairs for which he has brought in Professor Ramesh Thakur from Tokyo as the director.
CIGI and Balsillie School will work with the Canadian International Council, the Asia-Pacific Foundation and the Shastri Indo-Canadian Institute.
Balsillie suggested "the establishment of a permanent Canadian education presence in India, in order to recruit Indian students to undergraduate and graduate programs across Canada; an annual high-level policy dialogue that brings together business leaders, academic experts and government officials' exposure of Canadians to visiting Indian business and institutional leaders;" and the creation of "a young scholars program to facilitate and manage a regular and structured exchange of the best and brightest of our two countries emerging academic talent."
He also floated the idea of annual CIC fellowships by the C-IBC for the study of contemporary India.
"The world is changing faster than many people can comprehend," he concluded, "and a dynamic India [is] a major agent of that change."
He, however, admitted that this change "is uneven, with far more progress evident in economic governance than in political governance, where it is badly needed. The world's capacity to understand and manage change needs urgent upgrading."
"We are what we think, all that we are arises with our thoughts, with our thoughts we make the world," he said, quoting from the Buddhist scripture Dhamapada. "May the festival of lights [Diwali] illuminate our thoughts," he added.
RIM, inventor and maker of Blackberry phones, works with five telecom service provider partners in India -- Bharti, Airtel, Vodafone Essar, Reliance Communications, BPL Mobile and Tata Communications. Balsillie was in India two weeks ago with his wife Heidi.
Besides his meetings with Indian business leaders and CEOs, Mr and Mrs Balsillie also visited a number of historic Hindu temples, and the Mahatma Gandhi Museum in Delhi and in Mumbai.
Image: James Laurence Balsillie, founder and co-chief executive officer of Research in Motion