Two of India's biggest conglomerates, the Aditya Birla Group and the Vedanta group, are in talks with bankers to evaluate a bid for Rio Tinto's Canada-based Iron Ore Company. Metal companies across the world are also in the race to buy the Rio Tinto company, valued at close to $1.7 billion, say bankers.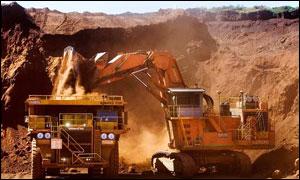 Iron Ore Company has reserves in Canada and a railway line to transport the ore. Rio Tinto has hired Credit Suisse and Canadian Imperial Bank to sell its stake. The mining major is selling the company to reduce its debt.
In January, billionaire L N Mittal sold his 15 per cent stake in several iron ore mines in Canada to South Korea's Posco for $1.1 billion. Falling iron ore prices, analysts said, was the main reason for Mittal and Rio to sell the stakes.
For Aditya Birla and Vedanta, tying up raw materials, including iron ore and coal reserves, is priority, with huge capacities coming up in India.
After the Supreme Court stay on iron-ore mining in Goa and Karnataka, Sesa Goa, a Vedanta company, has been hunting for mines abroad. Among other places, Vedanta is planning to invest close to $2 billion in Liberia, Africa, in iron ore production.
A spokesperson of the Vedanta group declined to comment on the proposed bid. A spokesperson of the Birla group declined to comment on "market speculations".
In an interview to this newspaper in February, Vedanta chairman Anil Agarwal had said the group was actively looking at iron ore, oil and gas and coal reserves all over the world. "We want Sesa-Sterlite to be as big as Rio Tinto and we will buy energy resources, including coal and iron ore reserves, wherever we get the right opportunities and valuation," he had said.
The banking source clarified it was not necessary that the talks would lead to any transaction by the Indian companies, as international bidders were also in the fray.
The Birla group, led by Kumar Mangalam Birla, is on the lookout for acquisition opportunities across the world, since its high-profile acquisition of Novelis has paid good dividends. Insiders say Novelis is investing close to $750 million in expansion of capacity across the world and its parent, Hindalco, is looking at acquisition opportunities.
If Agarwal and Birla make a final bid for Iron Ore Company, after due diligence, there will be a face-off between two of India's billionaires to acquire a global energy resource.<hr>
Target profile

Iron Ore Company of Canada is a 50-year-old firm and is the country's largest iron ore producer and a leading global supplier of iron ore pellets and concentrates. It employs 1,900 in Newfoundland, Labrador and Quebec provinces. The annual capacity at the company's Carol Concentrator is 17 million tonnes of iron ore concentrate, of which 13 million tonnes can be pelletised and the balance processed into various grades of concentrate products, says the company.