Heavily dependent on the Centre for supply of electricity and facing acute power shortage, Bihar has taken steps for setting up 25 hydel power projects for generating about 800 MW with the proposals at various stages of approval, official sources said.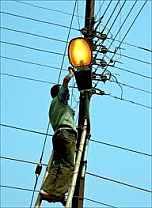 Bihar State Hydel Power Coporation Limited Managing Director A K Pandey told PTI that the state had at present 54 MW capacity hydel power plant and work was on at various stages for construction of different hydel power projects with generation capacity of 33 MW.

"Apart from these projects, the proposals for setting up 25 other hydel power projects with generation capacity of around 800 mw are at various stages and levels for according sanction", Pandey said.

Pandey informed that the state government had sent a proposal to the Centre with Detailed Project Report (DPR) for the long-cherished 130 mw Dagmara Hydel Power Project over River Kosi in Bihar's flood-prone Supaul district.

"We will be starting work on the project soon after receiving the go-ahead from the Centre", he said.

The Dagmara Hydel Power Project's fate hung in balance previously as the Central Electricity Authority had not given its nod to it keeping in view submergence of vast areas in bordering Nepal, he said.

"Now the project is proposed to be set up in the downstream of river Kosi and in keeping with the suggestions to the Centre about it, MS Wapkose prepared a revised Detailed Project Report and sent it the Central Electricity Authority for endorsement", Pandey said.

The World Bank and Asian Development Bank and Japanese financial institution JAICA too have evinced interest in the project, he said.

Pandey said Survey of India has completed the survey work on the proposed 450 MW Indrapuri Hydel Power Project in river Sone in Rohtas district.

"We will hold talks with the Central Water Commission and Uttar Pradesh government for preparing a revised Detailed Project report for the Hydel power plant", he said.

Survey was in the preliminary stages for setting up one dozen hydel power projects with generation capacity of 150 MW on river Mahananda and its tributaries like Purvi and Paschimi Knkai, Mechi Nagar, Parman, Bakra and nun, he said.

Pandey said there were possibilities of ten more hydel projects in the Kosi belt at Nabhara, Parsa, Daulatpur, Malhanawa and Satokhar of eight mw each, besides Thumba, Singheshwar Bazaar abd Jaidia of six mw each and Kataiya and Kariyaappi of 3.5 mw each. The Detailed Projec t Reports are under preparation for these projects.

Apart from these projects, it has also been planned to set up hydel
power projects in river Gandak and Burhi Gandak and their tributaries at Anwati, Noon, Shantinala, Lakhandei, Belwadhar, Sikarahana, Masan, Tilawe, Baiti, besides river Bagmati at Lal Wakya and Lakhandei for exploring the possibilities of viability a survey is being undertaken, Pandey said.
Pandey said the state government had evolved a Hydro Power Policy to attract investors in private sector in the wake of acute shortage of electricity.
After receiving suggestions to be included in the policy, it would be placed before the state cabinet for approval for a notification, he said.
Pandey said while the per capita power consumption is 765 kwhr in the country, it is just 122 kwhr in Bihar.
Pandey said Bihar was heavily dependent on the Centre in the energy sector as it produced hardly 100 MW to 150 MW electricity at present.
He informed that the state was drawing on an average 1100 mw against the allocation of 1833 mw of electricity from the central pool and 40 per cent of the electricity being recived from the central pool.
"If we talk about the availability of electricity in rural areas, there are 7204 villages in the state where the electricity has not yet reached against total number of 39015 villages," Pandey said.
Referring to the Rajiv Gandhi Rural Electrification Programme in Bihar, Pandey said it had been launched since 2005 and under the programme remote villages were getting power where it was not possible to provide electricity through grid.
The Centre has announced in January 2009 A Decentralised Distribution Generation (DDG) programme and under the DDG alternative sources of energy like Biomas and Solar energy would be useful to make available electricity in Patna, Gopalganj, Banka, Bhagalpur, Kaimur, Jamui, Kishanganj, West Champaran, Gaya, Supaul, Saharsa, Khagaria, Aurangabad and Supaul districts.
"Under the DGG programme, we will be making electricity available in 820 remote villages", he said.
He said under the DDG, the Centre had already sanctioned a Rs 38 crore project for 28 villages under Baikunthpur block in Gopalganj district and 20 villages in Kaimur district where the electrification work would be complete by the end of the current financial year.
Pandey said the DPRs had already been submitted for the remote villages for electrification in Khagaria and Supaul districts to the Centre.
He said DPRs were also being prepared for 80 villages in Kaimur, Bhagalpur and Kishanganj districts which will be sent sent to the centre next month.
The DPRs for electrification of the rest of the villages would be prepared after the survey work being carried out for the viability of the projects, Pandey added.