Now, Choudhari, along with few others, is entering into the online laundry segment, which was at its peak in 2014-16 but lost steam as companies could not scale their operations.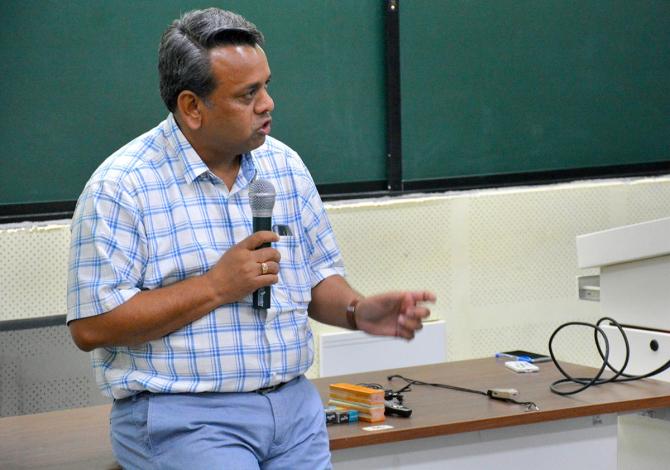 BigBasket co-founder Abhinay Choudhari has exited the company, and in his next entrepreneurial journey, he is looking to "solve another equally painful chore for many Indian households" after grocery shopping.
The Tata group acquired a majority stake in the online grocery store in May.
And when the deal happened, Choudhari decided he won't continue to be part of the management team.
"After nine years, the start-up itch has been growing within me, and I want to build one more new business from scratch," he wrote to BigBasket employees in his parting email.
Choudhari had started a venture called ShopasUlike in 2009, which eventually morphed into Bigbasket in 2011 with the joining of co-founders Hari Menon, Vipul Parekh, V Ramesh, and V S Sudhakar.
Now, Choudhari, along with Raghavendra Joshi (CIO), Tripat Preet Singh (CFO), Uday Vijayan (CMO), S M Abbas (CPO), and P Singh (COO), is entering into the online laundry segment, which was at its peak in 2014-16 but lost steam as companies could not scale their operations.
As it happened in 2016, Choudhari invested in an asset-heavy small-scale laundry, which has been running as a low-burn pilot for the past five years.
"One of the reasons for several laundry start-ups to shut shop was that they focussed on an asset-light and app-based aggregator model, because they were primarily influenced by Uber and Airbnb.
"But the backend remained the same and fragmented," Choudhari told Business Standard, explaining the business model he intends to work on.
At present, the founders are busy setting up the first centre in Bengaluru with the latest machines.
This would be the biggest such laundry facility in the country with a capacity to process 45,000 garments per day, he said.
Though the initial set-up will be bootstrapped, the founders have already invested a total seed capital of $2 million and are in advanced stages of talks with investors to raise $25-30 million in Series A funding.
"Our model is asset-heavy, and we will be in control of the entire process end-to-end.
"If you cannot control your backend, your unit economics won't work out.
"With the backend in our control, it allows us to bring the cost of processing and delivery operations to a level that can be disruptive," he added.
Choudhari is building his laundry offering on affordability and a quick turnaround time of 24 hours.
According to a recent study done by Redseer, out of India's total laundry market of $12 billion in 2019, $10 billion was B2C (business-to-consumer), and 80 per cent of this is expenditure for at-home washing.
The overall laundry market is expected to grow to $15 billion by 2025.
To tap this large market opportunity, the founders are creating a hub-and-spoke model of laundry services for each of the top 30 cities that they will go to.
Each city will have 15-20 hubs and these would be catered by two to four state-of-the-art service centres.
At their peak, the four centers in a city will employ 800-1,000 people, and each hub will have 100-125 people.
They will start from Bengaluru with a team of 300 people.
"We have an opportunity to disrupt the way Indian households do their laundry currently and become a market leader in a short period of time.
"The market is currently very fragmented and is largely unorganised and lacks a national player. From a recent consumer study across 30 cities, we gained insights that consumers are seeking out affordable, convenient and dependable services with a quick turnaround of 24 hours," said Uday Vijayan, co-founder and CMO of the venture.
Photograph: Courtesy iimnofficial/twitter.com