For some of the business majors, the fund outgo for the 2019 elections has risen as much as 15 to 20 times, compared to the amount given to political parties five years ago, reports Nivedita Mookeerji.
Illustration: Uttam Ghosh/Rediff.com.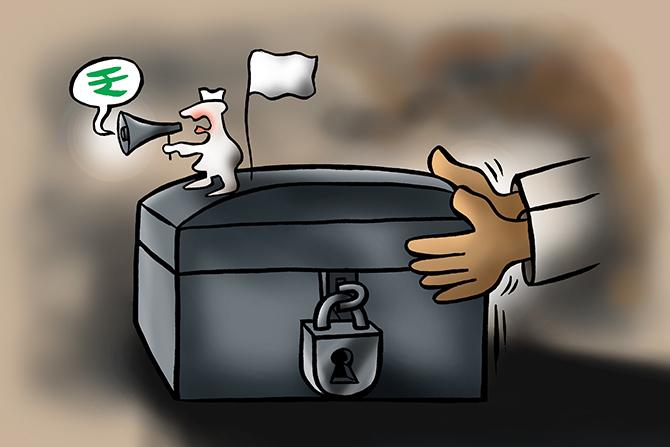 India Inc is learnt to have stepped up its funding aggressively for the upcoming Lok Sabha elections, but growth in the number of electoral trusts has been lacklustre.
For some of the business majors, the fund outgo for the 2019 elections has risen as much as 15 to 20 times, compared to the amount given to political parties five years ago, sources in the know said.
Quite a few big groups are spending upwards of Rs 500 crore each this election through various modes of donation, company executives confirmed. However, electoral trusts, introduced in 2013 for transparent funding, seem to have lost their charm.
In 2019, not even a single electoral trust has been registered so far with elections less than two weeks away, according to an official at the Ministry of Corporate Affairs. In contrast, 2014 had seen a rush of new electoral trusts -- 15 of them were registered that year to fund the general elections. There are 30 electoral trusts in the country currently, of which six were set up in 2013, 15 in 2014, two in 2015, one in 2016, four in 2017, and two in 2018, the data from the Registrar of Companies shows.
The future of electoral trusts is in doubt as electoral bonds are around to fund polls now, according to Anil Verma of the Association for Democratic Reforms, a New Delhi-based non-profit election watchdog. The growth in trusts is relatively limited because corporates would, by and large, prefer to give anonymously, pointed out Milan Vaishnav, director and Senior Fellow, South Asia Program, Carnegie Endowment for International Peace.
"Businesses could be using electoral bonds or they could be funding elections the traditional way, which is under the table," Vaishnav said, adding it's nearly impossible to gauge how much corporates are spending in 2019.
"But the conventional wisdom is that overall election spending this year will probably hit $7-8 billion (Rs 49,000-56,000 crore), up from an estimated $5 billion (Rs 35,000 crore) in 2014."
Estimates suggest that electoral bonds worth Rs 1,407 crore have been bought till January 2019. According to FACTLY, a public information portal, Kolkata and Mumbai lead in the total value of the bonds bought so far at Rs 424 crore and Rs 407 crore, respectively. Delhi is third at Rs 173 crore.
It also shows that more than 70 per cent of these bonds have been encashed in Delhi. An amount of Rs 1,034 crore has been encashed in New Delhi so far, followed by Rs 125 crore in Hyderabad.
The government had last year notified the use of the electoral bond scheme as an alternative to cash donations made to political parties, as part of its efforts to bring transparency in political funding. But, recently, the Election Commission told the Supreme Court that electoral bonds, contrary to government claims, "wreck transparency in political funding".
Even as many of the big businesses have set up electoral trusts, they may use a combination of payment mechanisms this time. None of the electoral trusts replied to Business Standard queries on funding of elections.
According to an ADR report of 2017, the Bharatiya Janata Party got the maximum declared corporate funding of Rs 705.81 crore between 2012-13 and 2015-16.
The BJP topped the list among five national parties, having received donations from as many as 2,987 corporate donors. The Congress was second with Rs 198.16 crore of funding from 167 corporate donors in three years.
Almost 60 per cent of this declared contribution came in 2014-15, coinciding with the previous Lok Sabha polls.