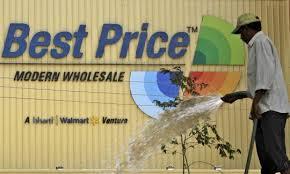 Bharti Realty, the real estate arm of Sunil Bharti Mittal-led Bharti Enterprises, is gearing up to enter the premium residential market in FY16.
While the overall real estate sector in India has seen muted growth in recent years, high-end residential projects have been high in demand.
The Tatas and Godrej are among the other big business houses that have presence in residential real estate.
Currently, Bharti Realty has projects in the retail and commercial segments and it is looking to enter the residential market starting with Delhi-national capital region.
"Bharti Realty is scouting for land in north India, especially in Delhi-NCR, for its first residential project.
"It might also form joint ventures with land owners for the same," a person close to the development told the Business Standard.
He added that the company might also look at partnership with existing developers, especially cash-strapped ones looking for funds.
A company spokesperson declined to comment.
In August last year, S K Sayal was appointed the new managing director and CEO of Bharti Realty for "conceptualising and implementing a scalable business strategy and providing overall leadership to the business", an earlier statement from the company had said.
Sayal would also explore and seek new business opportunities via joint development models to scale the realty business to the next level of growth, the statement had added.
Apart from telecom business, Bharti group has been in the news for its retail foray along with American chain Walmart through an equal partnership in cash-and-carry or wholesale business, and more recently for parting of ways.
Budget 2015: Complete Coverage
Bharti continues to operate its retail chain Easyday, while the cash-and-carry business is now fully owned by Walmart.
The group's other interests included insurance and agro-products, where it could not meet the success of telecom and diluted stakes in its ventures.
Aviation was another area of interest, but had not entered the sector yet. Payment bank is its latest new business venture.
In commercial real estate, Worldmark -- a high-end office-cum-retail project in Delhi's upcoming Aerocity -- will be functional soon offering 1.5 million sq feet of space.
Recently, Bharti Retail had launched its first mall, The Pavilion, in Ludhiana.
Till now, the firm has delivered two million sq ft of commercial space in NCR, while another 3.5 million is under construction.
It is also setting up a mixed use project in Kolkata, according to information available on the company website.
Even as India's real estate sector is going through a slowdown phase, developers are hard-pressed for funds and inventory of unsold homes is piling up.
According to experts, this is the right time to enter the sector as one would get a good deal on land valuation.
And if it is lucky, the company would have its product offerings ready when the market revives.
BHARTI'S NON-TELECOM INTERESTS
Retail FieldFresh Foods Pvt Ltd – a 50-50 joint venture between Bharti Enterprises and Del Monte Pacific Ltd. Offers branded FieldFresh fruits and vegetables across India and international markets, including Europe and West Asia
Bharti Retail – a wholly owned subsidiary of Bharti Enterprises. Operates more than 200 Easyday stores across India. The group's equal partnership with Walmart for cash-and-carry outlets broke off in 2013
Bharti AXA Life Insurance & Bharti AXA General Insurance -- a JV between Bharti and AXA Group. The company launched national operations in December 2006. In 2011, Bharti had decided to exit the insurance business and talks were on to sell its stake to Reliance Industries but talks were called off later
Beetel Teletech – sold 51 per cent stake to US-based Brightstar Corporation in 2014. It is a distributor of mobile handsets, offers consumer business and entreprise solutions
Gourmet Investments Pvt Ltd -- promoted by the Bharti Family Office, is the master franchisee for PizzaExpress for India and Nepal, Sri Lanka, Bangladesh, Bhutan, Maldives. PizzaExpress is a casual dining brand. Established in 1965 in London, it operates 500 restaurants in 14 countries. The brand was launched in India in 2012 in partnership with Gourmet Investments Pvt Ltd
Aviation -- A group of Bharti Enterprises, DLF and Singapore's Changi Airports pulled out of a race for modernisation of Delhi and Mumbai airports in 2005