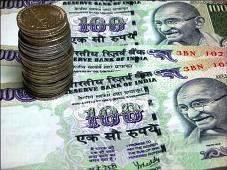 West Bengal government on Tuesday raised Rs 1,500 crore (Rs 15 billion) as state development loan from the Reserve Bank of India, thus raising 25 per cent of its projected borrowing in the first two months of the financial year.

So far, the West Bengal government has raised Rs 5,000 crore (Rs 50 billion) as SDL from RBI, which is almost one-fourth of its total borrowing plans of Rs  20,071 crore (Rs 200.71 billion).

The steep borrowing figure may compel the state government to once again seek relaxation in the Fiscal Responsibility and Budget Management Act very soon.

Thus, the state availed of relaxation of the Fiscal Responsibility and Budget Management Act  twice last year, pushing the borrowing of the state to Rs 22,423 crore (Rs 224.23 billion).

"Given the fact that we have a large amount of loan to repay, the future is bleak as far as the financial situation of West Bengal is concerned.

"A central government package can be a temporary solution to the problem, but in the long term the government needs to raise taxes to come out of this crisis," said Dipankar Dasgupta, former professor of economics at Indian Statistical Institute.

Between April 1 and May 11, the West Bengal government borrowed a whopping Rs 3,500 crore (Rs 35 billion).

Faced with an acute cash crunch, West Bengal has been relying on market loans to meet its committed expenditures, like pension and salaries.

West Bengal's debt burden of according to the last Budget document was Rs 2.08 lakh crore (Rs 2.08 trillion).

The outstanding debt of the government is set to increase to Rs 2.26 lakh crore (Rs 2.26 trillion) in the present fiscal, making it one of the most indebted state
in terms of tax to GSDP ratio.
West Bengal is seeking a moratorium on interest and repayment totaling Rs 22,000 crore (Rs 220 billion) on its debt for the next three years, and formulation of a debt restructuring exercise over the interim period.
The debt restructuring should include debt elimination, increasing repayment tenure and reducing interest rate on loans.

Earlier, West Bengal chief minister Mamata Banerjee had given a 15-day deadline to the Centre  for sanctioning the moratorium.

However, later Banerjee, had gone on backfoot even though the meeting with the Prime Minister has so far not yielded into a financial package.

This financial year, West Bengal's revenue receipt is projected to be  Rs 76,943 crore (Rs 769.43 billion) and expenditure is Rs 83,801 crore (Rs 838.01 billion) leaving a huge revenue deficit of  Rs 6,585 crore (Rs 65.85 billion).

West Bengal's expense on salaries alone is set to increase from Rs 28,899 crore (Rs 288.99 billion) to Rs 31,184 crore (Rs 311.84 billion) by the end of this fiscal, which is about 37 per cent of the projected expenditure of the government.

Similarly, the cost of pension and other retirement benefits is projected to increase from Rs 8,385 crore (Rs 83.85 billion) to Rs 9,582 crore (Rs 95.82 billion).

The state economic growth in the financial year 2012 was likely to remain at 7.06 per cent, same as the financial year 2010-11, down from 9.84 per cent  in financial year 2009-10, said a recent report by Fitch.

This will result in eleventh five-year plan period average real gross state domestic product growth of 7.32 per cent, much below the targeted 9.1 per cent.

This forms a slippage of 1.78 percentage points and is the fourth-largest slippage among major states, the report said.