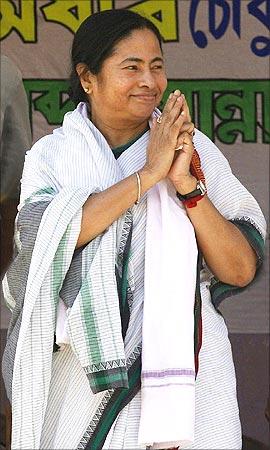 West Bengal Finance Minister Amit Mitra's meeting with Union Finance Minister Pranab Mukherjee on a proposed moratorium on repayment of the state's debt has left the Trinamool Congress government dissatisfied.

According to sources, the Centre was positive on giving some sort of financial assistance but the ruling TMC is unhappy that all it got was an assurance.

This could have repercussions for the election to the President of India, a process in which the TMC is considered to have an important role.

In Kolkata, Chief Minister Mamata Banerjee let her annoyance be known.

"We have not got anything concrete," she frowned.

Her associates said the state government is conscious that if there is a new finance minister at the Centre, the government will have to start negotiations afresh.

The TMC had expected a three-year moratorium on its loan payment, amounting Rs 2 lakh crore (Rs 2 trillion), as its current annual outgo towards interest payment is around Rs 22,000 crore (Rs 220 billion).

"Discussions are on," is all that Mitra would say after the meeting. He was accompanied by state finance secretary H K Dwivedi.

Mitra had flown in late last night and the only item on his agenda was this meeting.

Before entering North Block, he told waiting reporters their demand for a package was an 'ongoing one for the past one year. It's now for the Centre to respond.'

The TMC chief has herself visited Delhi on several occasions and met the Prime Minister and the FM regarding the package but has been disappointed so far.

As Banerjee has been ambivalent about her support for Mukherjee as Presidential candidate, the financial package, according to many in the Congress, was a useful tool to barter with the United Progressive Alliance.

While the Congress itself has refrained from making any statement on Mukherjee as the Presidential hopeful, the West Bengal unit of the party, sensing Banerjee's unwillingness, has gone on an overdrive to appeal to her.

Manas Bhuiyan, Congress leader and minister in the West Bengal government, went on record this weekend to appeal to the TMC to support Mukherjee's candidature.

State Congress sources told Business Standard their leaders were in one-to-one talks with several important TMC leaders to get support Mukherjee, mainly as he was 'a son of Bengal.'

The Congress in Delhi, however, chose to downplay this, with central leaders saying, "It was more sentimental than anything; after all Pranab Mukherjee has for long been associated with the Bengal Congress. It's understandable that they will appeal for him."

Central party spokesperson Manish Tewari dismissed suggestions that there was any quid pro quo element in West Bengal's demand.

"You need to de-segregate these two things.

"The state seemingly in financial distress reaches out to the central government for certain concessions. It is certainly not seeking a quid pro quo for a political initiative or elections."

Meanwhile, Congress sources admitted that if any financial assistance was extended to Bengal, the two other debt-ridden states of Punjab and Kerala would also have to be given financial assistance.

Adding to the political potpourri, the Samajwadi Part, which rules Uttar Pradesh, also demanded financial assistance for the state today and reminded the UPA that its support could not be taken for granted.

The Samajwadi Party supports the UPA from outside the coalition.
Image: Mamata Banerjee | Photograph: Reuters