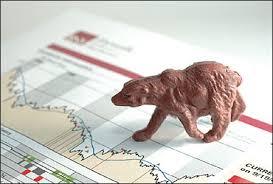 If Google search data are anything to go by, interest in the new Indian bull market may be on the wane after the post-election euphoria on Dalal Street.

The average number of queries for the key phrase 'bull market' declined from a peak of 1,000 a month in May and June to 880 three months later, an analysis of Indian Google searches shows.

By comparison, the average number of searches for 'bear market' rose during the same period -- from 320 in May, June and July to 390 in August and September.

The number reflects a cumulative average for the search phrase over a 12-month period.

The Google Trends data, reflecting the use of a term relative to its peak, show the most number of people typed 'bear market' in October 2008 (assuming it to be 100).

Relative to the peak, this fell significantly (to five) in May; and then rose to seven in October.

The figure for 'bull market' relative to its peak, meanwhile, declined from 17 in May to 14 in October.

October 2008 was also the month when the most number of people searched with keyword 'Sensex' for BSE's 30-stock benchmark, whose performance is seen as reflective of the way India's stock market is behaving.

If the number of people searching for 'Sensex' in October 2008 is taken to be 100, the number stands at 12 this month so far (down from 19 in May).

Similarly, the number of people searching with keyword 'Nifty' for the National Stock Exchange's 50-share benchmark also peaked in October 2008.

Assuming it to be 100 then, the number so far in October stands at 31 -- up from 30 in May and the only of the five key search words to have shown an increase.

Interestingly, the number of people searching for 'stock market' was the highest in January 2008, the peak of the previous bull run.

If 100 people queried for 'stock market' on Google then, the number is down to 13 so far this month --
unchanged from May.
Global studies have shown a correlation between what people search for on Google and how the stock market performs subsequently.
A paper titled 'Quantifying Trading Behavior in Financial Markets Using Google Trends', published in the journal Scientific Reports on April 25 last year, showed Google Trends data reflected (and could also help predict) economic behaviour.
"Using historic data from the period between January 2004 and February 2011, we detect increases in Google search volumes for keywords relating to financial markets before stock market falls.
"Our results suggest that these warning signs in search volume data could have been exploited in the construction of profitable trading strategies," said the report authored by Tobias Preis, Helen Susannah Moat and H Eugene Stanley.
The authors are associated with the University of Warwick, Boston University and University College London.
A March 2013 working paper 'Predictability of stock market activity using Google search queries' noted that stock market returns could be linked with searches for a stock, based on a "sample of the largest European stocks".
It said: ". . . an increase in web searches for stocks on Google engine is followed by a temporary increase in volatility and volume and a drop in cumulative returns. . . An increase for web search queries for the market index leads to a decrease in the returns of the index, as well as of the stock index futures and an increase in implied volatility".
This paper was authored by Pedro Latoeiro, Sofia B Ramos and Helena Veiga of the Universidad Carlos III de Madrid.
Incidentally, client trading volumes on BSE also show a decline roughly in line with the fall in Google searches.
The total trading volumes had peaked to Rs 68,000-72,000 crore (Rs 680-720 billion) in the May-June period.
The average of volumes fell 13.25 per cent over the following three months to Rs 60,507 crore (Rs 605.07 billion), even as the number of searches for 'bull market' fell 12 per cent in the same period.